Kintsugi
Materials:
Carrara marble
Dimensions:
11,9 x 14,1 x 4,6 cm
Collection:
Lafayette anticipations - Fonds de dotation Famille Moulin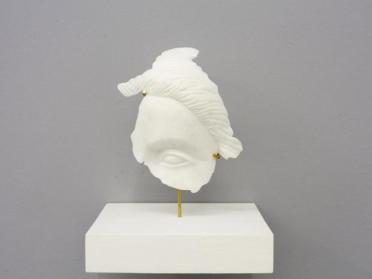 Seemingly incomplete, this sculpture in Carrara marble represents a human figure. This mutilated, broken face is none other than the reconstitution of the missing fragment of the Nagasaki Angel, a sculpture miraculously spared during the atomic bombing of the city on August 9, 1945. A symbol of peace and hope, the work was offered to UNESCO by the city of Nagasaki in 1976. By restoring the integrity of the angelic face, Julien Discrit reaffirms his attachment to continuity and discontinuity, as does the title of the work, Kintsugi, a Japanese word meaning "golden joint." By extension, it has given its name to a meditation on the existence of things and its vagaries. By healing the disfigured Angel, Julien Discrit expresses the resilience and permanence of the non-human by linking the past and the present.

Text written by Quentin Rose as part of the partnership between the École du Louvre and Lafayette Anticipations – Fonds de dotation Famille Moulin.
Exhibitions
ParisArt, Le discret et le continu, septembre 2018

L'oeil, Julien Discrit, Octobre 2018

Le discret et le continu
Galerie Anne-Sarah Bénichou, Paris (France)
from 8 septembre 2018 to 20 octobre 2018