Amalia-Fri-Mason
Medium:
Singing poem video
Dimensions:
6 minutes 4 secondes
Collection:
Lafayette anticipations - Fonds de dotation Famille Moulin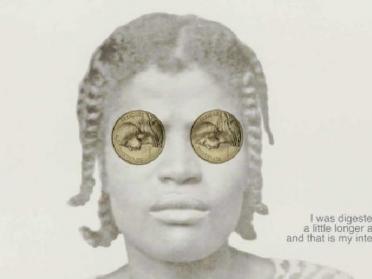 Amalia-Fri-Mason (2017) is part of a process of questioning history. This hybrid work, which combines video, poetry, and song, is part of the installation Ricochets, les galets que nous sommes finiront par couler (Épilogue). This work is driven by Julien Creuzet's exploration of the colonial division of Africa, which he sees as the breeding ground for contemporary terrorism. Following the example of Aliha Kama (2017), a work which is part of the same installation, Amalia-Fri-Mason deals more specifically with the theme of the integration or exclusion of the "other" in society, a subject that is partly autobiographical, since Creuzet drew inspiration from the experiences of some of his relations. The metaphor "I was digested, a little longer ago, and that is my integration" expresses a slow and painful integration following immigration. Amalia-Fri-Mason thus refers to issues of migration, a recurrent theme in Creuzet's work.

Text written by Julie Robin as part of the partnership between the École du Louvre and Lafayette Anticipations – Fonds de dotation Famille Moulin.
Exhibition
You
Musée d'Art Moderne de la Ville de Paris, Paris (France)
from 11 Oct 2019 to 16 Feb 2020