Tarik Kiswanson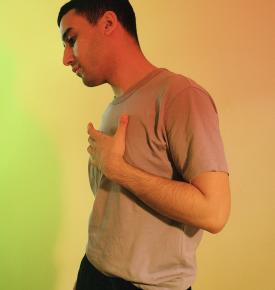 Born in 1986 at Halmstad (Suède).
Lives and works in Paris (France).
Born in Sweden and of Palestinian descent, Tarik Kiswanson lives and works in Paris. His work, that encompasses sculpture, writing and performance, reflects a commitment to the « poetics of métissage ».
Through different conceptual strategies of interweaving, both in the literal and metaphoric sense, Kiswanson seeks to make visible the need to be « in relation », as articulated by Edouard Glissant. His works are often activated by the presence of the viewer, all the while reflecting in turn his/her own unstable, erased or diffracted image. The artist graduated from Central Saint-Martins in London and the Beaux-Arts in Paris. His work has recently been exhibited at Fondation d'entreprise Ricard in Paris (2018), MRAC in Sérignan and Mudam in Luxembourg (2017).