The backstage of production: Tarik Kiswanson
Saturday 19 May 2018 from 4pm to 5pm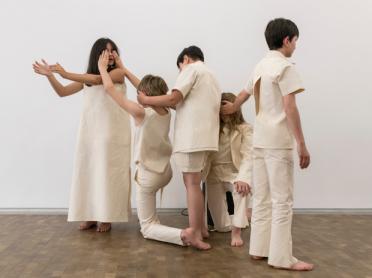 Lafayette Anticipations is launching 'The backstage of production', a series of lectures through which the production team, in dialogue with curators and artists, shine a light on the processes of conception and production of the various artistic projects supported by the Fondation.
On the occasion of this public discussion, artist
Tarik Kiswanson
, curator Charles Aubin and production director Dirk Meylaerts will present the different stages of creation for
AS DEEP AS I COULD REMEMBER, AS FAR AS I COULD SEE
. Together, they will discuss the artistic challenges posed by such a performance.
Access to this event is free of charge but places are limited.
Tickets for Tarik Kiswanson's performance
AS DEEP AS I COULD REMEMBER, AS FAR AS I COULD SEE
, which will take place from 17 to 20 May, can be reserved via
Lafayette Anticipations' online ticket service
.
Born in Sweden and of Palestinian descent, Tarik Kiswanson lives and works in Paris. His work, that encompasses sculpture, writing and performance, reflects a commitment to the « poetics of métissage ».
Through different conceptual strategies of interweaving, both in the literal and metaphoric sense, Kiswanson seeks to make visible the need to be « in relation », as articulated by Edouard Glissant. His works are often activated by the presence of the viewer, all the while reflecting in turn his/her own unstable, erased or diffracted image. The artist graduated from Central Saint-Martins in London and the Beaux-Arts in Paris. His work has recently been exhibited at Fondation d'entreprise Ricard in Paris (2018), MRAC in Sérignan and Mudam in Luxembourg (2017).