AS DEEP AS I COULD REMEMBER, AS FAR AS I COULD SEE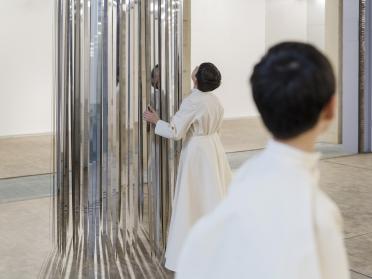 AS DEEP AS I COULD REMEMBER, AS FAR AS I COULD SEE is a Lafayette Anticipations – Fondation d'entreprise Galeries Lafayette production, led in partnership with Performa. The performance will be developed in a new iteration in New York for Performa 19.
Sculptures
The suspended sculptures were conceived by
Tarik Kiswanson
who names them
Father Forms
. These pieces are composed of polished mirror stainless steel blades, cut and sanded by hand. 4-meters tall, the
Father Forms
graze the floor and can be put into motion by the children. These kinetic sculptures were developed by Lafayette Anticipations' production team with the support of carlier I gebauer (Berlin).
Costumes
In partnership with
Mode Estime
,
Tarik Kiswanson
conceived a clothing line for his performance. Located on the Île Saint-Denis, Mode Estime is a fashion workshop carried by a social reintegration mission. The workshop's team creates on site all of its productions. For his performance, Kiswanson designed three garments (caftan, welding outfit and suits) of which he combined the constitutive elements to create new silhouettes. Alice Merle and Patricia Levalois, from Mode Estime, followed the development of the costumes (from the prototypes to their production) and benefited from the technical advice of Julia Hulshoff-Medart, who works at the Galeries Lafayette style bureau.
Performers
The children performing
Tarik Kiswanson
's poetic texts study at the
l'école Jeannine Manuel
in Paris. The school opened generously its doors to the artist and Lafayette Anticipations teams so as to pursue a six-month long pedagogical partnership, under the direction of Sarah Barton. The école bilingue is the central partner of
AS DEEP AS I COULD REMEMBER, AS FAR AS I COULD SEE
.
Acknowledgements
The artist wishes to thank Charles Aubin, François Quintin, RoseLee Goldberg, Maaike Gouwenberg, Lafayette Anticipations' team and Jesi Khadivi. Lafayette Anticipations thanks Elisabeth Zéboulon, Frédéric Auquier, Florence Bosc and Sara Barton from the école Jeannine Manuel.
Cast
Concept, texts, sculptures and costumes
:
Tarik Kiswanson
Performers, from the école bilingue Jeannine Manuel
: Katherine Adams, Nicholas Bradbury, Mary Caroline Cox, Mélusine Dauphin, Eva Dos Santos, Clément Guilherme, Gabriel de Lanversin, Félix McGeever, Gaspard Rouffin, Sebastiao Torres Pereira and Vadim Vadanici
Vocal accompaniment
: Sara Barton
Choreographic accompaniment
: Christine Bombal
Curatorial advisor
: Charles Aubin
Production team
: Dirk Meylaerts, Aude Mohammedi-Merquiol, Romain Bertel and Lisa Audureau
Production consultant
: Margot Videcoq
Sound engineers
: Benjamin Magot, Kerwin Rolland and Théo Marchand
Costume production
: Julia Hulshoff-Medart from the bureau de style des Galeries Lafayette and Mode = Estime under the direction of Alice Merle and Patricia Levalois