Andros Zins-Browne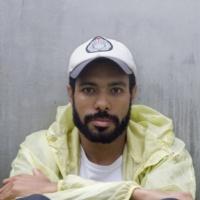 Born in 1981 at New York (États-Unis).
Lives and works in Bruxelles (Belgique).
Initially trained in classical dance at the Joffrey Ballet School, Andros Zins-Browne completed his studies with a degree in semiotics of the arts at Brown University. He moved to Brussels in 2002 where he studied at P.A.R.T.S before joining the Academy Jan van Eyck Program in Maastricht.
Zins-Browne has danced for many contemporary choreographers including Jonathan Burrows, Mette Ingvartsen and Maria Hassabi, as well as visual artist Tino Sehgal. His own choreographic work has been presented at the Centre Pompidou in Paris, Dance Umbrella in London, HAU in Berlin, PACT Zollverein in Essen, the Stedelijk Museum in Amsterdam, as well as at the Fondation Boghossian and the Kaaitheater in Brussels.
Exhibited at Lafayette Anticipations