You
Medium:
Video installation. Video shot in Super 16mm and uploaded in HD
Collection:
Fonds de dotation Famille Moulin - Acquisition 2016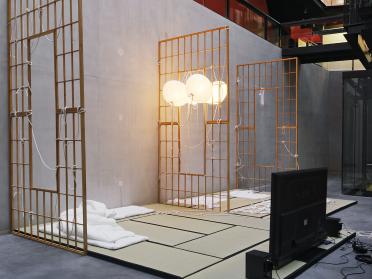 "You" is an individual and collective chronicle, a newspaper both fictional and real that it summons more than it tells.
The film depicts sensual relationships between characters who in turn come closer, form couples, detach and exchange. According to the artist, "love becomes a communication system, where the succession of partners makes it possible to create a "We" through a superposition of "
You
", without fusion. The caress replaces the language, the group becomes a moving body but also folded on itself. Thus the artist proposes a form of universalization of a state of adolescence, where subjectivity, language, the body are complex notions, diverted ways of being in the world. The film is presented in an installation which reconstructs a room, one of the places in which the film is shot. Intimacy is shown to everyone's sight. The embarrassment and the surprise caused by the sight of an erotic scene in a public place are at the heart of
Mélanie Matranga
's work, using emotional structures rather than formal structures. Supported by Lafayette Anticipations - Fondation d'entreprise Galeries Lafayette and Fondation nationale des arts graphiques et plastiques for "Incorporated!" exhibition, Les Ateliers de Rennes 5th edition - Contemporary art biennial, October 1st, 2016 - December 11th, 2016.
Production specifications
The Fondation preserves and documents traces of the works at various stages of their creation (sketches, models, prototypes, etc.).
Le Fonds de dotation Famille Moulin atteste de son soutien au projet "You" de Mélanie Matranga