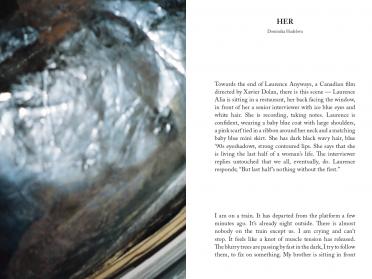 Laureates of the A l'oeuvre 2021 ! programme, Aldo Buscalferri and Dominika Hadelova - the creative duo of MATTO Studio - accompanied by Jennifer Cunnigham - design researcher - present the first book project of MATTO Studio.
TWO MONTHS, is a book created entirely during two months in Autumn 2021, the duration of À L'OEUVRE ! residency.
How can two months be encapsulated as current, passing time as well all that is being triggered and brought from the past? The human, body - the I, is inevitably at the core of this book.
Jennifer's texts confuse the self with the things that surround it as she tries to figure out the consistency of her body, of the day, of two months. Based on the foundation of borrowed ideas, her texts document daily compulsions, object associated behaviours and attachments to things. Everything mixes together in obscure correspondence - bodies, phones, friends, eyes, dust, false memories. These texts pursue the making of the body on the page.
Dominika's texts speak of the visual - yet all is only words, relying on the reader to form the colours, textures and breakages of her description. They traverse times and geographies, as if being knitted or woven. Like acupuncture stimulating points they reveal thoughts, emotions and fragility. Her writing comes in waves, or like water from the gutters, not knowing where one leaves off and the other begins.