Sustained Glass (with Fred Moten, boychild, Lorenzo Moten, Hypatia Vourloumis, and Moved by the Motion)
Medium:
Acid-etched Lamberts flashed glass, silicone, steel frame, 3 Panels
Dimensions:
457,5 x 341,6 cm
Courtesy:
Co-produced by Gropius Bau and Lafayette Anticipations. Courtesy of the artist, Galerie Isabella Bortolozzi, Berlin and Cabinet, London.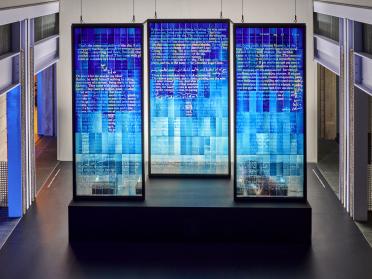 This large glass sculpture work extends from Tsang's collaborative practice and follows research by the artist into glass traditions, which led her to one of the last producers of hand-blown glass in Bavaria, Germany.
Sustained Glass inverts the tradition of stained glass windows depicting allegorical stories as images. Instead, the glass is illuminated with texts that fade in and out of legibility. By acid-etching onto the glass, this corrosive process acts as a metaphor for language's toxicity. The text draws from pages of Moten's recent book, All that Beauty, and the essay 'Sudden Rise at a Given Tune', co-written with Tsang and others, and here annotated by Tosh Basco. Sustained Glass is experienced in the backdrop of the soundtrack from The show is over, ascending from the floor below, in an act of sonic extension that further emphasises the two works' shared project to address the entanglement between translucency and opacity.