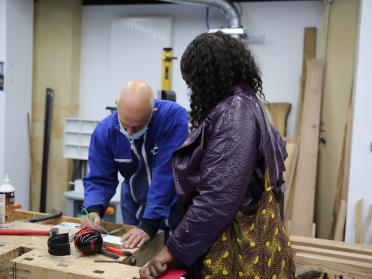 With the help of our production and coordination team, Christelle Oyiri imagined and produced Sleep Paralysis - an artistic installation and scenography element of her performance R.I.P. Aporia, programmed at the Centre Pompidou's Move festival.
Sleep Paralysis is a baldachin bed made of pearwood whose sides are crossed by a flow of epoxy resin, evoking both marine and cosmic landscapes. The resin - backlit by an array of LEDs - is reflected on the floor to the rhythm of a program sequenced by the artist. The bed frame is machined using a Japanese embedding technique. The drapery is imagined and designed by Inner Light.
This work is nourished by Afro-pessimism - a concept of Franck B. Wilderson III aiming to go beyond the academism of black studies by sketching an ontological approach to black identity. For Christelle Oyiri, the incompleteness of reflections and discourse on black identity creates an aporia at the very heart of being. A meta-ideological impasse that induces extreme fatigue and a premature end.