Problème pédagogique
Courtesy:
Galerie Samy Abraham, Paris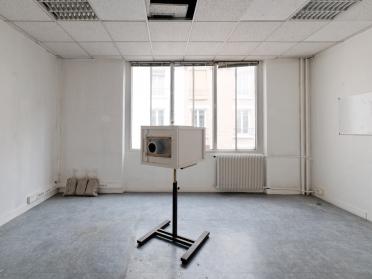 A big wooden box. It looks like a pinhole camera in which the lens has been replaced by a set of flexible sleeves and coatings of Vaseline. Push your hands in it.
This dark room in which you're handcuffed is a distant relative of a therapy designed to cure phantom limbs. There are holes, a perforated mirror, two rooms for your hands, one for sleep, the other for work. The sleep room is filled to the brim with anaesthetic clay. The work room is empty and reflected in the mirror. There is also a hole in the mirror, a "glory hole" through which your sleeping arm projects toxic matter to the other side.