Poisoned by men in need of some love (Quattuor Bubo bubo)
Petrit Halilaj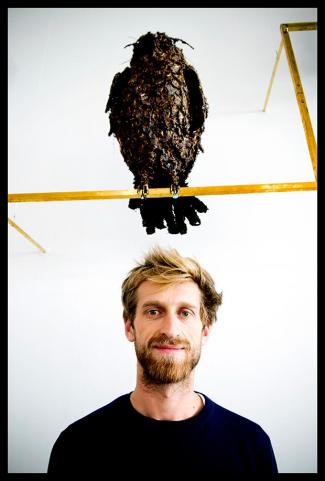 Born in 1986 at Kostërrc (Skenderaj-Kosovo), lives and works in Bozzolo, Berlin & Pristina (Italy, Germany & Kosovo).
Medium:
Installation of four owls, iron, cow excrement, earth, glue, copper structure
Collection:
Fonds de dotation Famille Moulin - Acquisition 2013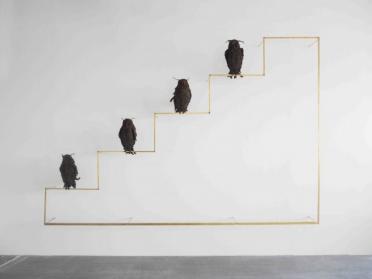 Through Poisoned by men in need of some love, the artist Petrit Halilaj plans to rediscover the taxidermized animals of Natural History Museum in Pristina, Kosovo. With 850 specimens, this collection was moved from one museum to another, then walled up and forgotten in favor of a exposition of national folklore.
Petrit Halilaj
made copies of these stuffed animals. In parallel he shot a film entitled
July, 14th?
documenting his ongoing excavation. The pieces consist of earth, rubble, wooden slats. The ghostly presence of these phoenix evokes the myth of the "lost" museum but also the hope of a rebirth. The forced exile, corruption and loss to which this work refers are concepts closely related to the artist's life. He had to flee with his family to a refugee camp in Albania as a young boy during the conflict in Kosovo.
Petrit Halilaj
's ultimately critical works question key notions such as "home," "nation," and "cultural identity." Thus they reveal sociopolitical realities between memory and actuality, the ingenuous and the fictive, the infinitely personal and commonly shared experience.
Production specifications
The Fondation preserves and documents traces of the works at various stages of their creation (sketches, models, prototypes, etc.).