New Pompidou
Medium:
Residency, sculpture, performance, procession and film
Collection:
Collection Lafayette Anticipations - Fonds de dotation Famille Moulin, Paris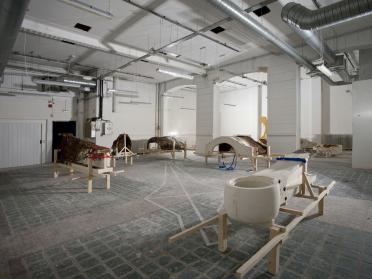 New Pompidou is the fruit of one of Lafayette Anticipation's first production residencies, for which Simon Fujiwara turned the ground floor of the Fondation's future building into a research office and plaster workshop.
Over a period of eight weeks, Fujiwara developed and produced a piece to be presented at the Centre Pompidou in the context of the fifth edition of the
Nouveau festival
(19 Feb – Mar 10, 2014). Part sculpture, part performance and part film,
New Pompidou
mixes fiction, autobiography, poetry, technology and fundamental knowledge. The film made during the production residency at Lafayette Anticipations retraces the creative and production processes of a plaster sculpture, moulded after a
gerberette
, a steel piece integrated in the Centre Pompidou's structure.
Simon Fujiwara
uses this unusual piece as a sarcophagus for a personal story which combines the history of the Marais, an architecture student's frustrated aspirations and a rose stolen from the Georges, a restaurant on the museum's rooftop.
A project by Simon Fujiwara produced by Lafayette Anticipations as part of the 5th edition of the Centre Pompidou's Nouveau festival.
February 14, 2014
Performance, procession, presentation of the sculpture Lafayette Anticipations – Fondation d'entreprise Galeries Lafayette and Centre Pompidou, Paris
March 10, 2014
Screening of
New Pompidou
film (18 minutes) at Lafayette Anticipations – Fondation d'entreprise Galeries Lafayette, Paris
Simon Fujiwara
assisted by Maria Bartau (
Simon Fujiwara
Studio) and Yan Tomaszewski (assistant project manager)
Production of the sculpture:
Dirk Meylaerts (production director, Lafayette Anticipations), Pierre Imberteche (master craftsman responsible for producing plaster moulds), Moritz Fehr (mould production technician), Yvan Hart (mould production technician)
February 14 procession:
Trumpet players: Nicolas Bezins, Nelson Da Silva Carriers: Xavier Antin, Dominique Blais, Maxime Bichon, David Chastel, Arnaud Dezoteux, Iannis Japiot, Carlos Goncalves, Vincent Gasparina, Romain Guillet, Tarik Kiswanson, François Lancien-Guilberteau, Valentin Lewandowski, Dirk Meylaerts, Elias Redstone, Callum Rees, Kerwin Rolland, Alain Seban; Olof Söderlind, Yann Sta , Dexi Tian, Eric Van de Walle, Thomas Vuong, Philip Warkander
Film:
Simon Fujiwara
(artist, writer, director) Xiaoxing Cheng (filmmaker) Alexandre Sénéquier (assistant filmmaker) Gerber (rabbit from Bourgogne) Patrick Paulmier (butcher)
Acknowledgments:
Bernard Blistène, Florencia Chernajovsky, Rafaël Grynberg and Linus Gratte, City of Paris municipal police