Mutant Stage 6
Medium:
Film, 2.29 minutes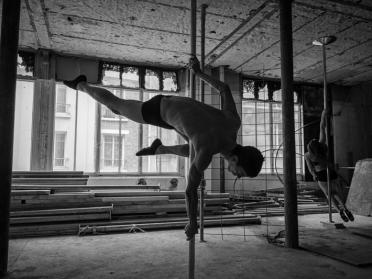 On the second floor of the Fondation d'entreprise Galeries Lafayette, two dancers move on poles fixed amongst spars, concrete beams and scaffolding.
Their silhouettes are reflected on the bright glass windows – fluid and agile shadows performing choreographed gestures and poses. Co-directed by Frédéric Lebain and Grégoire Pédron, the sixth
Mutant Stage
film gives life to the construction site located 9 rue du Plâtre, revealing its dark, metallic and graphic beauty. Frédéric Lebain & Grégoire Pédron
Manuela Carneiro
Manuela Carneiro, a self-taught dancer, rapidly gained recognition in pole dancing: in 2008 she placed second in European Championships, third in the 2010 European Pole Dance Championship (Champion of Champion category), and fifth at the Pole Art 2011 competition, one of the most prestigious competitions in this field. Furthermore, in 2011 and 2013, she was named runner-up champion of France. She has collaborated with various artists such as Florence Foresti, Bruno Marignan, or Joseph Bouglione. She participated in several TV documentaries to promote pole dancing. In 2014, she launched her own agency, In da house, dedicated to pole dance choreography and pedagogy.
Keem S. Martinez
Keem S. Martinez studied dance at the Conservatoire national de danse d'Avignon and integrated its Junior Ballet. A few years later, he participated in several musicals and then became a member of the Pal Frenak dance company. He discovered pole dancing in 2006 and started practicing competitively. He became the French Champion in 2008 and 2014 and World Champion in 2012. He stopped competing in 2014 and has since become a coach and artistic director for performances and shows.