Mutant Stage 5 "Cavern"
Medium:
Film, 4.21 minutes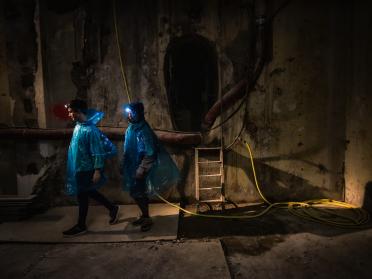 For the fifth episode in the Mutant Stage series, I decided to view the construction site as a field of exploration and as a fully-fledged protagonist. The shapes, gaps, outlines and holes progressively reveal an organic and changing space. Wreathed in the rustling of their plastic ponchos, the dancer-explorers pace the space, becoming one with it though saying nothing of their purpose.
Breaths intertwine, steps fit together, a rattling resonates and shapes reflect each other. This sneak peek into a mysterious initiation is accompanied by the sound of percussion instruments echoing the rubble's rumbling. At the end of the journey, we remain at the edge of our seats, anxiously awaiting the building's upcoming opening. The film's images evaporate in the warmth and cold of the building, sounds dim with the episode's final breath. As it is both the fifth episode of the
Mutant Stage
series and a piece in its own right, I chose to subhead the film Cavern. I thus underline the strength of this provocative setting, which will not be exactly the same in the following episode."
Louise Hémon
Alix Eynaud
Alix Eynaudi trained as a ballet dancer at the Paris Opéra school of dance. She danced in various ballet companies before entering PARTS upon its opening. In 1996, Alix Eynaudi joined Anne-Teresa De Keersmaeker's company, Rosas, where she worked for 7 years. Since 2005, Alix Eynaudi has been creating her own pieces: namely, Crystall, in collaboration with Alice Chauchat (2005), Supernaturel (2007), Long Long Short Long Short (2009), in collaboration with Agata Maszkiewicz. In 2011, she conducted research with Kris Verdonck, on the benefits of sleep and rest, which gave birth to Exit (2011), a solo in which she puts the audience to sleep. In 2012, she choreographed Monique, a duo with Mark Lorimer, which finds its inspiration in bondage. In 2015, she premiered a group piece, Edelweiss, a danced rebus that oscillates between abstract and figurative art. She is currently developing two projects in 2017. In addition to creating her own work, Alix Eynaudi makes a point of continuing to develop projects with other artists, both as a collaborator and a performer. She took part in pieces by a.e.: Superamas, Kris Verdonck, Anne Juren, Boris Charmatz, Jennifer Lacey and Noé Soulier. Alix Eynaudi's artistic practice also involves teaching workshops a.o.in PARTS, Brussels, ImPulsTanz (Vienna, in Reykjavik, Panetta Movement Centre (New York), Skolen for Moderne Dans / The Danish National School of Contemporary Dance and SEAD (Salzburg).
Matthieu Barbin
After following numerous trainings, Matthieu Barbin worked two years for Gallotta while also contributing to in situ and off projects with Christian Bourigault. On the invitation of Hortense Archambault and Vincent Baudriller, he participated in the KADMOS research group at the Avignon Festival in 2013. He then collaborated with choreographer Boris Charmatz, performing in different pieces such as Levée des conflits, Enfant or Manger, presented for the first time at the Ruhrtriennale 2014. He also participated in Charmatz's retrospectives at MoMA in New York and at the TATE Modern in London. Matthieu Barbin is currently working on various projects, including a collaboration with artist Dorothy Smith around the transdisciplinary project TRAUM, composed of a film and a performance.