The Murmur
Medium:
Patinated aluminum, bronze, glass
Courtesy:
Courtesy the artist, Galerie Eva Presenhuber, Zurich/New York and C L E A R I N G New York/Brussels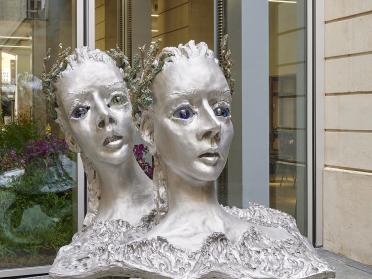 The Murmur, a two-headed sculpture by Jean-Marie Appriou, seems to come from another world.
Its double gaze crosses the space towards a distant, secret, and inaccessible horizon. Aluminium and glass reinforce the protean character of this divided female figure. The guardian of wastelands and, perhaps, a nurturer of plants, she evokes the multiple mythological figures of the nymph, Medusa, whose gaze can turn to stone, the Sphinx, who watches over the entrance to the building, or the two-faced Roman god Janus, one face turned towards the past and the other towards the future, thus signifying passage and transition.