The Gleaning Ship
Courtesy:
Courtesy the artist, Galerie Eva Presenhuber, Zurich/New York and C L E A R I N G New York/Brussels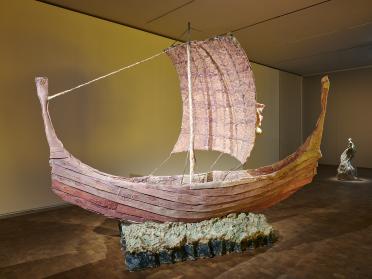 Jean-Marie Appriou's sculptures personify man's relationship to the nourishing soil by drawing inspiration from the ancestral gestures of sowers, gatherers, and foragers.
They also suggest the idea of a crossing between worlds. Crossing imaginary fields, the two figures in the boat forage the plants left behind in the wake of the harvesters.