Mas-A-Pwoteksyon - Dual Conditioning System - Transfert
Kenny Dunkan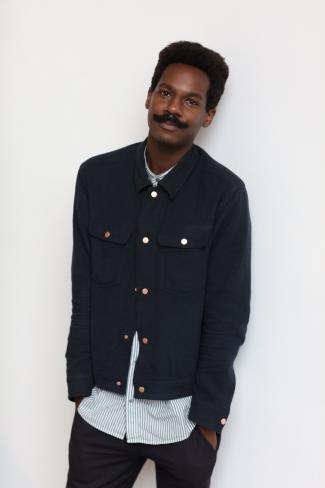 Born in 1988 at Pointe-à-Pitre (Guadeloupe) (France), lives and works in Paris, Zurich (France, Suisse).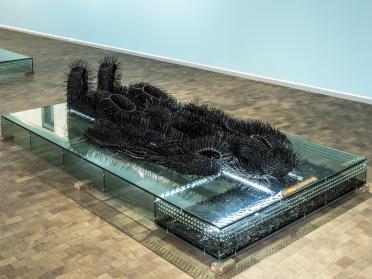 MAS-A-PWOTEKSYON 2018 Nylon hose clamps, black oxide steel nuts, shoes, PMMA acrylic, protein styling gel and hair wax DUAL CONDITIONING SYSTEM. LOTTA BODY SET AND TWIST 2018 PMMA acrylic, nylon hose clamps, hair conditioner, hair TRANSFERT 1, 2 et 3 2018 Bath towels, melanin, wood, aluminum
In a double movement, comprised on the one hand of overexposure and on the other of a quest for protection,
Kenny Dunkan
tackles the stakes involved in the representation of black bodies. In this work he summons and revisits several references belonging to the iconography of Christian religious sculpture. In this manner, the three shrouds on the wall bear the imprint of his body. The flakes from freshly scrubbed skin after a bath become pigments that permeate a canvas. Traces emerge that fly in the face of the stereotypes of the body's "purity" and "impurity". This display of intimacy is completed by lying figures in the classical tradition of the "gisants" (recumbent figures), the funerary sculptures of important historical figures. The artist built two armours which reference as much the funereal protections which accompanied the deceased into the after life, as fetishist mise-en-scenes. They challenge stereotypes associated to the black body: from its vulnerability within the public space to its hypersexualisation.