Levant
Medium:
Multimedia installation – HD video, sound (18 minutes, looped), painted wood, dance mat, light globes, resin, synthetic hair and debris
Dimensions:
Durée : 59 minutes, en boucle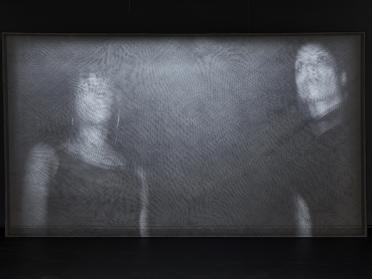 Levant is an installation by Paul Maheke incorporating a video made in collaboration with Ligia Lewis and Melika Ngombe Kolongo aka Nkisi. The three practitioners have come together around their shared desire to exit the field of representation in order to propose new, more abstract forms, that address notions of excluded bodies and identities.
Translucence and a blurring of the field of vision are at the heart of this work which oscillates between visibility and erasure. Concise repetitive gestures, mumbled words akin to spells being cast, ambiguous objects, ghostly shadows and long echoes serve as strategies to build a poetic, ambiguous and penetrating space. The film brings together the three protagonists without necessarily showing them: it focuses in particular on a sequence of movements performed by Ligia Lewis to the rhythm of a soundtrack composed by Nkisi. The collaboration between Maheke, Lewis and Nkisi will culminate in a performance presented on Saturday, 7 July 2018 at Lafayette Anticipations, and performed by Titilayo Adebayo. In collaboration with Ligia Lewis and Nkisi Ligia Lewis is a dancer and choreographer. She has worked in multiple contexts including that of the theatre and museum. Engaging with affect, empathy, and the sensate, her choreography considers the social inscriptions of the body while evoking its potentiality. Her work can be described as experientially rich and complex. Within her practice, Lewis continues to provoke the nuances of embodiment. In 2017, Lewis was awarded a Bessie for Outstanding Production for her latest stage work, 'minor matter' and in 2018, a Foundation for Contemporary Arts Award in the field of dance. Both her stage works 'minor matter' (2016) preceded by 'Sorrow Swag' (2014) continue to tour internationally. She is currently preparing her latest stage work, presented in part by Biennale de l'Image en Mouvement (Geneva) and HAU Hebbel-am-Ufer (Berlin), for Fall 2018. Melika Ngombe Kolongo aka Nkisi is co-founder of NON Worldwide, whose raison d'être is described as "a collective of African artists and of the diaspora, using sound as their primary media, to articulate the visible and invisible structures that create binaries in society, and in turn distribute power", Nkisi's ethos and music is imbued with a certain punk sensibility along with a political push back against conformity. Her DJ sets draw from a wide range of influences forming a fast paced and exhilarating experience in the dance. Her production reflects deeply on these influences and provide a sound that is equally relentless and evocative.