Image Is an Orphan
Medium:
HD video, HD monitor, powdercoated metal, polyurethane foam
Dimensions:
18 min. 28 sec.
Collection:
Fonds de dotation Famille Moulin - Acquisition 2016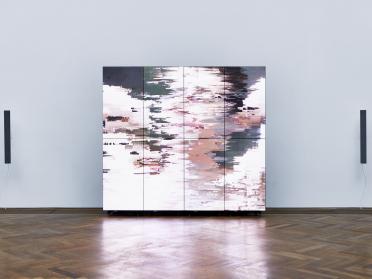 Image Is an Orphan appears across eight monitors. The screened image palpably tangible shows technoid medical imagery with incidental amateur footage, questionning the relationship between the body and the image.
The camera lingers on a mysterious, trembling surface, veined and glistening. What is pictured is a simulation of retinal imaging, revealing the interface between your eye and brain, at which visual cognition occurs. This sequence is interspersed with various looped black and white videos showing bodies in states of accidental violence. A voice-over is speaking in turns questioning or plaintive. The visitor is not being addressed at all. The voice is, in fact, in conversation with itself, as if it were the image itself, who sounds raspy and world-worn, speaking aloud to the body, which answers back with its almost cinematic timbre. Using sculpture, photography, installation and moving image,
Shahryar Nashat
questions the body's aliveness, its sensuality, vulnerability, contingency, and mortality, through its technological mediation.