He's in a Great Place! (A film trailer for And You Were Wonderful, On Stage)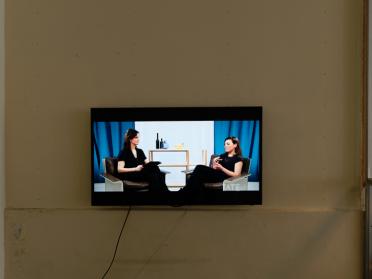 The artist was resident at Lafayette Anticipations - Fondation d'entreprise Galeries Lafayette, in January and February 2014. After several performances (Stedelijk Museum in Amsterdam, Performa 13 in New York, Tate Britain), Cally Spooner, accompanied by choreographer Adam Hewlett-Weinert, set up a fleeting film studio for the filmed elements of this performance given at Tate Modern on 27 February 2014.
The artist presents an adaptation of And You Were Wonderful, On Stage, a performance broadcast live on the 27th February, 2014, from the Tate Modern in London as part of the BMW Live programme. This performance for an a cappella choir, the choreography of which was conceived and filmed at Lafayette Anticipations, explores the injunctions in contemporary public discourse and the political lies upheld by the media, in forms which borrows from musicals and Hollywood ballet.