Empathy I
Medium:
5D simulator installation (video, sound, motion, water and wind), video 3:49 minutes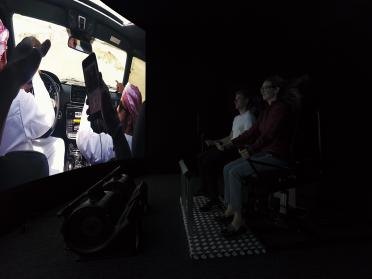 Empathy I was inspired by the artist's experiences of several sites of popular leisure, from mass historical tourist attractions such as Neuschwanstein Castle to theme parks such as Disneyland Paris.
Closely collaborating with a company that produces theme park rides, Fujiwara began to develop his own immersive simulator experience that, rather than dealing with fantasy experiences, brings the viewers into the 'real world' by translating YouTube footage and first-person perspective camerawork into a physical simulation experience through motion platform seating. By augmenting a range of the experiences of others – from the tragic or ecstatic to the banal – into the spectator's own physical experience, Fujiwara radically shifts the focus from the image to the body. Accordingly, he describes the work as a 'sculptural experience' rather than a film. In this sense, the hierarchy of contemporary image-led mass media is rendered subservient to primary bodily experiences of danger, stillness and speed, of sadness and pleasure. In a socio-technological climate where the individual's experience is prized over group or mass identification, Empathy I reflects on an increasingly simulated world which is at once thrillingly emotive and disturbingly efficient.