Editathon Art+Feminism 2016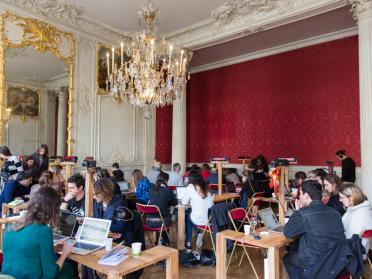 Organised in Paris for the second consecutive year, in sync with over one hundred other locations around the world, the Art+Feminism Editathon invites everyone to create, improve or translate articles on the women and minorities who are missing on Wikipedia despite being essential to the history of the plural, open arts. To be improved, gender equality needs everyone's help: the 85% of Wikipedia contributors who identify themselves as men, and everybody else who feels concerned about this imbalance, were invited to join the Editathon in order to equally write and share their stories on 5 and 6 March at the Archives nationales.
Seeing some of the collections of the Archives nationales, writing on the Wikipedia platform in the Prince's Ceremonial Hall, chatting and having something to eat in the oval lounge, and finally looking after children while their parents write: these are the elements put in place to comprise two days with an atmosphere that is welcoming to everyone. Alongside Kvardek du, a Wikimedian who is passionate about contemporary art and committed to egalitarian (epicene) writing on the platform, a volunteer team of around 50 people was formed through workshops held since autumn entitled "The Present of our Knowledge". They will help participants learn how to use the Wikipedia platform, write about their subjects, and conduct oral exchanges that can be recorded and then posted online. Some subjects have been suggested in advance by participants, while others can be spontaneously tackled on the day of the marathon. The writing can be done alone or as a team, according to each person's preference. Over the course of two days, participants will share skills, compare points of view, increase their awareness of problems concerning language and the organisation of knowledge, and support long-term action by sharing and writing a more diverse and decentralised history of the arts. In order to make this subject more receptive, and increase openness to other strains of thought, the Paris edition of the Art+Feminism Editathon has the distinctive feature of working alongside artists. American artist Aaron Flint Jamison, based in Portland Oregon, produced the work and discussion environment in such a way that it allows contents and conversations to circulate fluidly. He also worked on some of the project's nodes, intensifying them through artistic creations. And Hélène Bertin, based in Paris, designed a visual device that makes it easy to recognise the team: nimble-fingered brass brooches ornament the seams of their clothing. Two-thirds of the team itself is made up of practitioners from the art world (artists, curators, art students, researchers). These newcomers to the Wikipedia platform work alongside experienced wikipedians. This engagement in writing and sharing a plural, open history of the arts is being extended in time and space. It is extending in space because this year, the Art+Feminism Editathon is being organised at 125 locations, from Winnipeg to the Diocesan Library of Tunis. The internet connects them through writing on Wikipedia, streaming live conversations, and through chat channels, particularly Slack, set up by the Frac Lorraine in Metz. It is extending in time because Editathon participants have the tools needed to use the Wikipedia platform, they can continue the dialogue through the Facebook Group
artandfeminism.paris
, and can also attend "The Present of our Knowledge" workshops, which continue throughout the year. During this two-day marathon, around 36 articles were created, a dozen articles were improved and over 30 Wikipedia accounts were opened. See the results of the Editathon on the Wikipedia platform. Produced by Lafayette Anticipations, Fondation d'entreprise Galeries Lafayette in the context of the global Art+Feminism campaign. In partnership with Wikimédia France and the Archives nationales. Organization: Kvardek du and
Flora Katz
, with the productions of Hélène Bertin and Aaron Flint Jamison. Discussions Saturday 5 March 2016 "Herstory - Write her stories" With : Isabelle Alfonsi (co-founder ofgalerie Marcelle Alix), Dominique Cardon (philosopher and sociologist), Claire Fontaine (artist), Kvardek du (wikipédien-ne). Discussion led by
Flora Katz
Sunday 6 March 2016 "Fighter journey, from education to professional life" Discussion led by Christina Vatsella and Alexia Vahlas "From her stories to our future" With : Sylvia Fredricksson (professor and web designer), Béatrice Josse (director of Frac Lorraine), Paul Maheke (artist), and Camille Morineau (co-foundeur and director of Archives of Women Artists, Research and Exhibitions). Discussion led by
Flora Katz
Many thanks to Mikaela Assolent, HOME, Katinka Bock, Florence Bonnefous, Clara Gensburger, Emmanuelle Huynh, Sorana Munteanu, Anne-Laure Prévost, Jean-Philippe Kmiec et Mathieu Denel de Wikimedia France, Anne Rousseau des Archives nationales, Tristan Garcia, Sébastien Rémy, Barbara Sirieix, Marie Voignier, Galerie Air de Paris, Galerie Miguel Abreu, Galerie Marcelle Alix, Galerie Jérome Poggi, Section 7 Books, Galerie Jocelyn Wolff, Centre Culturel Suisse.