Editathon Art+Feminism 2015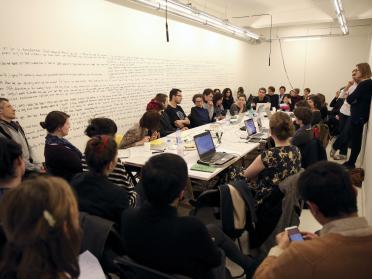 The lack of diversity among Wikipedia's contributors as well as the lack of critical oversight of its contents are real problems in a space that is increasingly becoming a benchmark for the sharing of knowledge. In order to redress this imbalance often referred to as the "gender gap", curators Mikaela Assolent and Flora Katz coordinated the Paris edition of a marathon held on March 7th and 8th 2015 in several cities worldwide, aimed at creating or improving as many Wikipedia pages as possible about women, feminisms and culture. The project was initiated last year by Art+Feminism, and was hosted by Lafayette Anticipations - Fondation d'entreprise Galeries Lafayette.
Opened for two days, the temporary space at 46 rue Sainte-Croix-de-la-Bretonnerie was able to accommodate a large number of amateur and professional participants, so that they could receive an initiation into Wikipedia in the presence of trainers. The event made it possible to see the extent to which contemporary art figures had disengaged from this unique collaborative platform. With the support numerous contributors, Lafayette Anticipations was able to instigate an examination of the archaeology and sharing of knowledge, and also place itself at the heart of very vibrant issues linked to identity, community and discrimination. For this first edition, the curators conceived with Lafayette Anticipations an ambitious programme that included training and online publication sessions, a performance by artist Addie Wagenknecht, and "Long Tables", a discussion protocol devised by artist Lois Weaver with a view to generating open, convivial dialogue. This discussion format was inspired by Marleen Gorris's film Antonia's Line (1995), whose central stage is a dining table that grows longer as new guests arrive. It challenges the notions of participation and public engagement by re-appropriating the atmosphere of a dinner table, viewed as a place of public debate, and by encouraging informal conversations on serious topics. Thus in the temporary space at 46 rue Sainte-Croix-de-la-Bretonnerie, artists, curators, critics, teachers, and curious passers-by shared a table, first to edit online content linked to women, feminisms and culture, and then to have an exchange in accordance with Lois Weaver's etiquette: participants were free to join the table to ask questions, make declarations, leave comments right on the furniture, or simply sit down, watch and listen. They attempted to approach feminisms by means of a lateral, collaborative economy of thought. Under the benevolent eye of volunteers from Wikimedia France, 36 articles were created and 23 others were altered over these two days that assembled as many as 150 people. Out of this, it came to light that contemporary art professionals were largely disengaged from Wikipedia, and that the burden of research and propagation in this area essentially fell to amateurs —in the noblest sense of the term— who have endeavoured to fill the platform with rich, reliable content. This gap inspired Lafayette Anticipation to enter into a substantive dialogue with Wikimedia France in order to provide logistical and theoretical support to dozens of contributors publishing articles on contemporary art, outside of any partisan or institutional view. Saturday 7 March from 11am to 2am, "Long Table" discussion at 7pm with: Isabelle Cambourakis (teacher, unionist, feminist, director of the "Sorcières" collection, a new feminist imprint from the publishing house Éditions Cambourakis), Camille Ducellier (artist), Fabienne Dumont (art historian, doctor of art history, art critic), Azadeh Kian (professor of sociology at Paris Diderot University and director of the CEDREF: Centre for the Teaching, Documentation and Research of Feminist Studies), Nathalie Magnan, (media theorist, feminist), Albertine Meunier (artist), Alexandre Monnin (philosopher and researcher at INRIA: the French Institute for Research in Computer Science and Automation) and Elvan Zabunyan (professor at University of Rennes 2 and art critic) Sunday 8 March from 11am to 7pm, "Long Table" discussion at 3pm : Eva Barois de Caevel (independent curator and assistant curator at Raw Material Company - Dakar), Maxime Bichon (artist), Julie Béna (artist), Emilie Bouvard (curator at the Picasso Museum, head of contemporary art), Anna Colin (associate curator for Lafayette Anticipation, Fondation d'entreprise Galeries Lafayette, co-director of Open School East, London, and co-curator of British Art Show 8, 2015), Anne-Marie Morice (director of Synesthésie, Paris) and Gwenola Wagon (artist). With the participation of Addie Wagenknecht. In partnership with Wikimédia France, Le Quotidien de l'Art and the Public Information Library (Bpi) — For your research, consider the Public Information Library. Thanks to: Anne-Laure Prévost and Jean-Philippe Kmiec of Wikimédia France; Nicolas Beudon, Emmanuel Cufini and Nathalie Daigne of the Bpi; Philippe Regnier of Quotidien de l'Art and Mica Gherghescu of the Kandinsky Library.