Bazar
Medium:
HD Video, 5 photo collages
Dimensions:
Durée: 10 minutes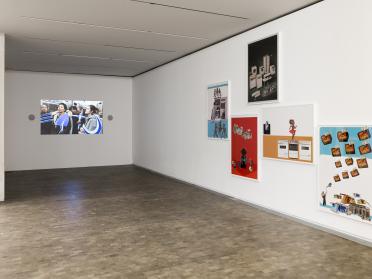 For this new video, Danielle Dean immersed herself in the archives of the Bazar de l'Hôtel de Ville and the Galeries Lafayette department stores. Examining a century of the store's annual catalogues for mail- order selling, the artist selected key household items (coffee mills, washing machines, outdoor furniture, camping tents...) associated with the construction of the "typical" French family lifestyle over the course of the 20th century. Bazar seeks to deconstruct the gender roles assigned by these objects, as well as the imaginaires of race and class they evoke.
In parallel,
Danielle Dean
gathered around her a group of four French women, mainly of African descent, to discuss their relationship to marketing strategies and consumerism through a series of semiotic workshops led in partnership with French scholar Maboula Soumahoro. The outcome of this process is a 10-minute-long video showing the four women alongside the artist traversing several set-ups of the archives while turning objects into props. "It is a journey, a search to fit in or escape", explains the artist. Visually, the video ingeniously merges together images with different qualities, from archives to illustrations, passing through 3D animation. The video embeds in the work the voices of the four participants who recount personal memories collected through interviews throughout the work process. They emphasize how creativity offers a way to engage with over-determining power dynamics in subject construction. Furthermore, several photo collages accompany the video and extend its universe of the deconstruction of images. First institutional presentation in France. Coproduced with On the Boards (Seattle); with the support of Creative Capital.