Warm Up Session x Echelle Humaine #2
Sunday 22 Sep 2019 from 9:30am to 11am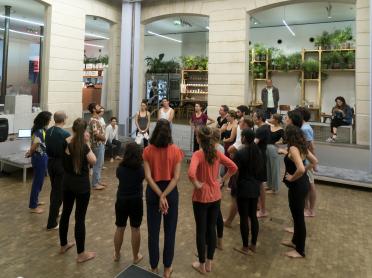 For the second Warm Up Session produced in collaboration with the Échelle Humaine festival, dancer and choreographer Steven Michel is invited. Performer of Jan Martens'Sweat Baby Sweat, presented during the festival, Steven will share the physical challenges of an individual communing with a partner, giving birth to a pas de deux that navigates between resistance and tenderness.

Recommended to wear comfortable clothes to move in, open to all.

Warm Up Sessions : a training for the body and mind. From jumpstyle to ballet, from break dance to contemporary, practice then discuss the indispensable movements and gestures that anticipate a performance - the ultimate moment of sharing with an audience. Each Session will begin with a warm up led by the invited dancer or collective, and will be followed by a discussion on themes bridging body movements and social realities : the performativity of the human condition, circulations and physical disruptions in a decorporalized era. With the Warm Up Sessions, we aspire to associate bodily effort with mindful effervescence.

A series curated by Madeleine Planeix-Crocker.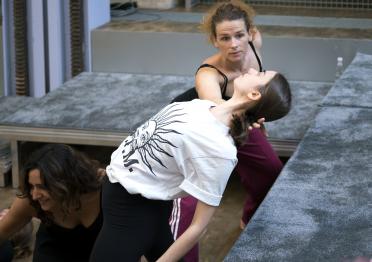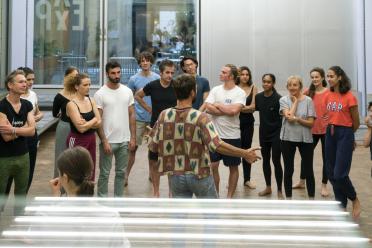 Steven Michel est un danseur et chorégraphe français, ayant suivi une formation de mime et de comédie musicale. En 2006, il s'est installé à Bruxelles pour étudier à P.A.R.T.S., où il a achevé sa formation de performeur et chorégraphe en 2010. En sa qualité de performeur, il a travaillé avec des chorégraphes, des metteurs en scène de théâtre et des réalisateurs comme David Zambrano, Falk Richter, Lukas Dhont, Daniel Linehan, Maud le Pladec. Au cours des huit dernières années, on a pu le voir dans les productions de Jan Martens SWEAT BABY SWEAT (2011), VICTOR (2013), THE DOG DAYS ARE OVER (2014), THE COMMON PEOPLE (2016) et RULE OF THREE (2017). Steven Michel a rejoint la plate-forme chorégraphique GRIP en 2016.
Outre ses participations à des spectacles en tant que performeur, Steven Michel développe sa propre pratique chorégraphique. En 2009, il a créé le duo ± Even but Odd avec Nicholas Aphane qu'ils ont interprété dans plusieurs théâtres en Europe, tout comme son solo de fin d'études, The Desert of Milestones (2010). Il a ensuite collaboré avec le danseur et chorégraphe Marcus Baldemar à une recherche intitulée Model (2012), dans laquelle ils ont fait usage du vocabulaire cinématographique pour élaborer un système performatif et chorégraphique. En 2014, Steven Michel a entrepris une recherche basée sur le thème de "l'audio-vision" ou la relation entre l'image et le son dans un spectacle, ce qui a donné lieu à son solo THEY MIGHT BE GIANTS (2016). Cette œuvre met en lumière l'intérêt particulier que Steven Michel porte au son, au rythme, à l'animation et à l'image. Le corps est traité sur un pied d'égalité avec la lumière, la scénographie et la musique en vue de créer sur scène une symphonie synesthétique qui stimule l'imagination et perturbe la perception du public. Pour ce projet, Steven Michel a choisi une démarche résolument interdisciplinaire : il a invité Hans Meijer à créer la conception lumière et le duo d'artistes Sarah & Charles à concevoir la scénographie. La collaboration interdisciplinaire entre les arts du spectacle vivant et d'autres expressions artistiques est une constante dans l'œuvre chorégraphique et les activités de Steven Michel en tant que performeur. Affordable solution for better living, dont la première a eu lieu en 2018, est une collaboration avec l'artiste plasticien français Théo Mercier. Ils y examinent des corps standardisés et des structures fixes par rapport à l'illusion de liberté que diffusent les puissances commerciales. Avec ce spectacle, Steven et Théo se voient attribuer le Lion d'argent (consacré aux jeunes promesses) de la Biennale de la danse de Venise. Outre ce projet spécifique, Steven Michel prépare une série de "laboratoires de performance" ouverts aux artistes de disciplines diverses. Il espère développer de la sorte de nouveaux champs de connaissance et d'expertise et estomper tant que faire se peut les frontières entre les différentes formes d'expression artistique. Dans le cadre de cette approche, il va continuer à analyser des concepts comme la fiction et la science, la miniature et le monumental, l'harmonie et le chaos, l'auditif et le visuel, l'analogique et le numérique.