Warm Up Session with Silvia Costa
Sunday 12 Dec 2021 from 10am to 11:30am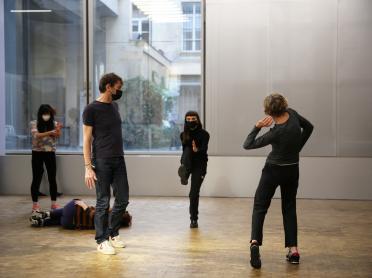 In this Warm Up Session, the artist Silvia Costa will take us on a spontaneous collective creation fed by the contributions of each participant.
A special focus is placed on the commons of communication: from collaboration to creation, through negotiation - what can we imagine together?

A cycle curated by Madeleine Planeix-Crocker.
Sportswear recommended, all levels.

In partnership with the Festival d'Automne à Paris.

-

The Warm Up Sessions stem from the desire to collectively discover, embody and question training techniques in performance. The series aims to situate the warm up as a vital step in the creation of performance pieces. Thus, training is understood as a starting point for choreographic, dramaturgical or performative productions, both a process of sharing and reflecting.

Based upon inclusive invitations, the Sessions seek to deconstruct silos between movement and thought. The series offers a space to practice and discuss, open to all, and conceived in close partnership with guest artists. In this experimental terrain, audience members become active participants, giving birth to an ephemeral and recurring event.
Originaire de Trévise, Silvia Costa étudie les arts visuels et le théâtre à l'Université IUAV de Venise.
Elle tient en 2006 le premier rôle comme actrice dans Hey Girl! produit par la compagnie de théâtre Societas Raffaello Sanzio fondée par Romeo Castellucci. Elle participe jusqu'en 2020 à la plupart des spectacles du metteur en scène en tant que collaboratrice artistique. 
Elle poursuit également ses propres projets artistiques et développe depuis 2007 un théâtre visuel et poétique nourri par une profonde réflexion sur les images, leur sens et leur pouvoirs sur les spectateurs.
À la fois autrice, metteuse en scène, interprète et scénographe, Silvia Costa est une artiste protéiforme qui utilise ces différents champs esthétiques pour approfondir sa démarche théâtrale. Ses créations sont régulièrement présentées dans les principaux festivals italiens et internationaux comme : La quiescenza del seme en 2007 et Musica da Camera en 2008 au Festival Es.Terni de Terni ; 16 b, Come un vaso d'oro adorno di pietre preziose en 2009 au Festival de Lupo à Forli ; Stato di grazia et La fine ha dimenticato il principio, un saggio su Pan en 2012 au Festival Euro-Scene de Leipzig ; A sangue freddo et Alla traccia, lode a ciò che è stato rimosso en 2016 au Uovo Festival à Milan.
Elle remporte le Prix de La Nouvelle Création pour sa production Figure, présentée en 2009 au Teatro Valle à Rome. En 2013, elle est finaliste du Prix du Scénario pour Quello che di più grande l'uomo ha realizzato sulla terra au Festival delle Colline de Turin. Avec cette pièce, elle fait ses premiers pas sur les scènes françaises en tant que metteuse en scène au Théâtre de Gennevilliers. Elle présente ensuite en 2016 Poil de Carotte, adapté de la nouvelle de Jules Renard au Théâtre des Amandiers et en 2018 Dans le pays d'hiver, adapté de Dialogues avec Leuco de Cesare Pavese à la MC93 de Bobigny dans le cadre du Festival d'Automne.
Son travail se développe aussi ailleurs en Europe comme au Landestheater de Bregenz en 2019 avec Wry smile Dry sob inspiré par la pièce Comédie de Beckett, au Residenz Theatre de Munich, avec une création à partir de Memoire de fille de Annie Ernaux, et au Kunstfestspiele Herrenhausen de Hanovre.
En 2019, Silvia Costa fait ses débuts à l'opéra pour la mise en espace de Hiérophanie de Claude Vivier aux côtés de l'Ensemble intercontemporain à la Cité de la musique dans le cadre du Festival d'Automne à Paris. En 2020, elle crée la mise en scène et les décors de l'opéra Juditha Triumphans de Vivaldi à l'Opéra de Stuttgart et la mise en espace de Così fan tutte au Palau de Les Arts Reina Sofía de Valence. En 2021 présente Combattimento, La théorie du cygne noir, crée avec Sébastien Daucé et son Ensemble Correspondances au Festival d'art lyrique d'Aix-en-Provence. 
Elle devient artiste associée du Théâtre dell'Arte à la Triennale de Milan de 2017 à 2019 et du Centre Dramatique National d'Angers en 2019. Ses créations bénéficient du soutien du De Singel, centre artistique international de Flandre de 2021 à 2023. Depuis 2020, elle est membre de l'ensemble pluridisciplinaire de la Comédie de Valence.