Warm Up Session with Fallon Mayanja
Saturday 09 Apr 2022 from 1pm to 3pm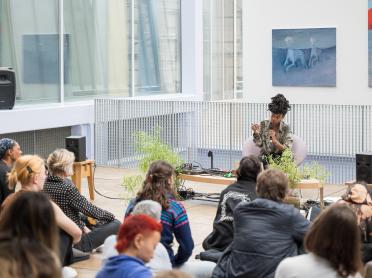 This Warm Up Session with artist Fallon Mayanja is located at the crossroads of music and poetry.
We'll delve into prosodic composition, improvised through words, bodies, and sounds.

This invitation to the movement is then followed by a discussion with Madeleine Planeix-Crocker, curator of the Warm Up Sessions cycle.

--
The Warm Up Sessions stem from the desire to collectively discover, embody and question training techniques in performance. The series aims to situate the warm up as a vital step in the creation of performance pieces. Thus, training is understood as a starting point for choreographic, dramaturgical or performative productions, both a process of sharing and reflecting. Based upon inclusive invitations, the Sessions seek to deconstruct silos between movement and thought. The series offers a space to practice and discuss, open to all, and conceived in close partnership with guest artists. In this experimental terrain, audience members become active participants, giving birth to an ephemeral and recurring event.