Théo Robine-Langlois, S'écrire
Sunday 16 Feb 2020 from 2:30pm to 4:30pm
Free entrance by reservation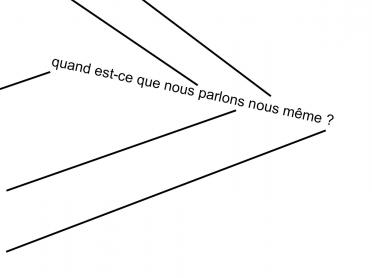 As part of the festival En Pratiques, Théo Robine-Langlois is designing and leading a poetic workshop on writing.
The aim of this workshop is to unlock new forms of writing by talking to oneself in the crevices of Reto Pulfer's installation, focusing on the description of one's direct environment and inner emotions through a series of simple exercises, which aim to transmit writing in the form of a playful practice that goes through the voice before arriving on paper or LCD screen.

From February 8 to 18, as part of the En Pratiques festival, Lafayette Anticipations invites Théo Robine-Langlois to design and lead a poetic workshop with the complicity of Victoire Le Bars, Paola Quilici and Claire Serres for the youth of Timmy, an association that helps isolated foreign minors active since 2015. During several sessions around language and writing, about ten young people and the artists will collaboratively create an editorial object.
Théo Robine-Langlois explores language through different supports for writing, such as the screen, the book, the radio or the internet.
Lived in
Juvisy
,
Cergy
,
Taipei
,
Grenoble
,
Paris
,
Clamart
.
Written on the internet in
demainjarretepas.net,
in magazines:
Bétâ
,
Remugles
,
How to become
,
EAAPES
,
Octopus Notes
,
Vozed
.
Produced exhibitions in an apartment in Cergy with Jessica Guez:
3some
, and continues in a workshop at La Courneuve with Blaise Parmentier:
A-frame
.
Is correspondent for the r
adio *DUUU
.
Member of
After 8 Books
, bookstore and publishing house based in Paris.
Watches and edits films on the construction and representation of the Parisian suburbs with Stephen Loye:
lavillefumee.video.
[...] is his first book published in
éditions Nous
.
"Un nuage c'est beaux au pire c'est chiant" is his first vinyl published in the
éditions *DUUU
.
For a more precise idea of his work, please find here an article by Guillaume Fayard and this presentation by Roland Cornthwaite.
The lafayetteanticipations.com website uses cookies for audience measurement purposes.
By continuing your navigation on this site, you accept their use.