Sun With Teeth: A Reading by Quinn Latimer
Saturday 26 Mar 2022 from 3pm to 4pm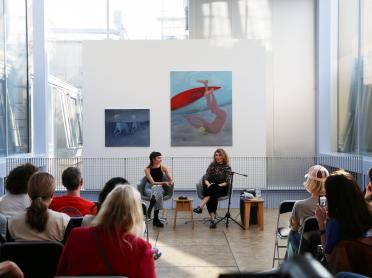 La poétesse et écrivaine californienne Quinn Latimer lit quelques poèmes sur les esprits humains et non humains, les images fixes et en mouvement, les animaux et les passages, les villes et les déserts.
"Le jour approfondit ses pigments, le soleil nous tourne autour comme un chien", écrit-elle. Ses textes, qui s'apparentent à de la performance, trouvent certaines rimes avec les sujets et l'exposition actuelle de Xinyi Cheng.
Quinn Latimer is a California-born poet, critic, and editor.
Situated between the performance and the page, her writings take in feminist imaginaries of literature and the moving image, culture and its many natures. She is the author of Like a Woman: Essays, Readings, Poems (2017), Sarah Lucas: Describe This Distance (2013), Film as a Form of Writing: Quinn Latimer Talks to Akram Zaatari (2013), and Rumored Animals (2012). Her writings have appeared in Artforum, The Paris Review, Texte zur Kunst, The White Review, and elsewhere. Her readings and visual collaborations have been featured widely, including at Chisenhale Gallery, London; Centre culturel suisse (CCS), Paris; REDCAT, Los Angeles; the Poetry Project, New York; Sharjah Biennial 13; and the 14th International Architecture Exhibition of the Venice Biennale. She was editor-in-chief of publications for documenta 14 in Athens and Kassel. Most recently, she is the co-editor, with Kateryna Botanova, of Amazonia: Anthology as Cosmology (2021). She is curating SIREN (some poetics), set to open at the Amant Foundation, New York, in autumn 2022. Latimer is Head of the MA program of the Institute Art Gender Nature HGK FHWN in Basel.