Sara Sadik in conversation with Oriane Durand
Friday 01 Jul 2022 from 7:30pm to 9pm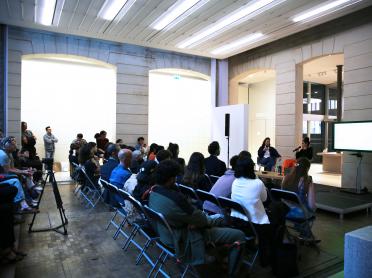 On the occasion of the presentation of her latest film Ultimate Vatos: Strength and Honour at Crevecoeur Gallery, Sara Sadik is in discussion with Oriane Durand, independent curator, co-curator of Sara Sadik's first exhibition in Germany at Westfalischer Kunstverein.

Both intimate and politically engaged, Sara Sadik's videos are impressive for their emphasis on the subject and the creation of a strikingly contemporary artistic language.

Using her daily life, the aesthetics of video games, science fiction, fashion and rap, the Algerian-Moroccan artist invents initiatory stories in which young men from immigrant backgrounds, or even simply from the suburbs, play the main role.

Through their words, which give voice to their hopes and anxieties, Sadik opens up a reflection on structural violence, aiming in particular to deconstruct representations of masculinity.

Beyond the clichés and stereotypes with which she plays, love for oneself and one's own springs up as a source of energy and a form of resistance to oppression and social exclusion.

For her exhibition Ultimate Vatos: Strength and Honour at the Westfälischer Kunstverein in Münster in spring 2022 and its sequel currently on view at the Crèvecœur Gallery, Sadik developed a video installation that delves into his observations on the conditioning of masculinity, traditionally linked to qualities such as physical and psychological strength.

From this three-part narrative - the third part of which will be shown at Statements in June during Art Basel - this conversation seeks to explore questions of production in the work as well as the larger themes that run through it.
Sara Sadik is an artist based in Marseille.
Halfway between fiction and documentary, her video and performance work, inspired by video games, anime and manga, but also by initiation stories, puts forward characters who tried to reach a physical and mental transformation.
Oriane Durand is an independent curator and author based between Paris, Marseille and Germany.
Between 2015 and 2020, she directed the Dortmunder Kunstverein, an art centre which she pushed to the forefront of the German and international scene. Before that, she worked as a curator for the Kunstverein in Nuremberg (2010-2014) and Bonn (2014-2015). With a particular interest in the discovery of young artists and experimental experimental practices, she curated the first institutional solo exhibitions in Germany institutional solo exhibitions in Germany of artists who are now internationally known : Raphaela Vogel (2015), Sol Calero (2017), Elaine Cameron-Weir (2018), Mimosa Echard (2019) and Sara Sadik (2022). Returning to France in 2020, she has founded the independent exhibition space Le Berceau in Marseille. She regularly writes for the for the international specialized press (Frieze, CFA...) as well as for artists' catalogues. She has participated in numerous juries (FIAC, Art Cologne, Städelschule...).