Ron Morelli
Wednesday 30 Nov 2022 from 8pm to 9:30pm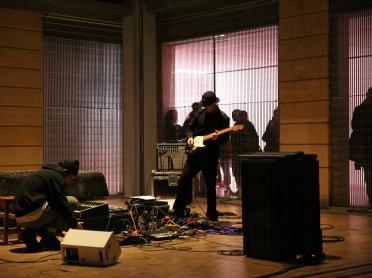 Conceived in collaboration with Cyprien Gaillard, this evening in the heart of the exhibition is punctuated by a 100% live performance by producer Ron Morelli, accompanied by guitarist Sofiane Brahami, in dialogue with Le Défenseur du Temps.
This performance traces the steps that led to the rebirth of the work - from its birth to its sleep, through its movements.

American artist Ron Morelli is known for his label L.I.E.S. Records, as well as for his close collaboration with Dominick Fernow's Hospital Productions in New York, with whom he has released six albums to date. Only on rare occasions does he perform his music live!