NOVA XX : Cucina Povera + Decha + Under Arrest
Saturday 04 Dec 2021 from 6pm to 9:30pm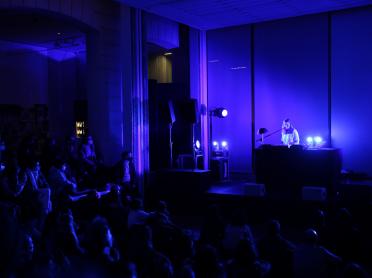 Lafayette Anticipations is once again partnering with NOVA_XX, a biennial event dedicated to artistic, scientific and technological innovation dedicated to women, for a sound prefiguration in parallel with the exhibition presented at the Centre Wallonie Bruxelles!
With performances by :

→ Cucina Povera (Helsinki)

Cucina Povera, aka Maria Rossi, uses her voice mixed with percussive loops and sound superpositions that she composes live. With her music she transports the listener into an unknown space where sounds are both familiar and foreign.

→ Decha (Düsseldorf)

Decha is the alias of the multidisciplinary artist Viktoria Wehrmeister. With her two solo albums on the Berlin label Malka Tuti, Decha lays down a poetic and totally stateless sound world. Her lyrics are a reflection on life and existence as a woman, mother, artist and creator. She sings about her daily experiences, emotions and encounters.

→ Under Arrest (Brussels)

Under Arrest, born in Germany and having passed through Bordeaux, is now a central figure on the Brussels scene both as a DJ and a programmer. Her mixes draw on her travels and a rich and vibrant electronic music culture.

In the framework of Némo - International Biennial of Digital Arts of the Ile-de-France region.
Cucina Povera est le projet solo de la musicienne luxembourgeoise-finlandaise Maria Rossi.
Tirant son nom du concept culinaire italien qui met l'accent sur l'utilisation d'un petit nombre d'ingrédients simples, Cucina Povera créée des musiques d'un autre monde à partir de voix superposées et d'électroniques, de mélodies et de drones harmoniques.
Elle a sorti son premier album, Hijla, en 2018 sur le label Night-School Records à Glasgow, son deuxième album Zoom (2019) est une collection d'enregistrements utilisant principalement sa seule voix, qui documente différents lieux et différentes humeurs.
Son dernier album Lumme (2021), enregistré à Rotterdam, Londres, Luxembourg et Glasgow, explore la magie glossolalique dans un tourbillon de 60 minutes d'excursions prolongées pour voix, orgue et synthétiseur, rempli d'hymnes ambient-pop.
Decha est l'alias de Viktoria Wehrmeister.
Viktoria Wehrmeister est désormais connue dans certains milieux comme la voix du duo Toresch (aux côtés de TOLOUSE LOW TRAX et Jan Wagner). Sous le nom de Toresch, ils ont sorti deux albums acclamés par la critique sur le label Offen Music de Vladimir Ivkovic, qui ont mis en avant la fusion entre les beats abstraits, bruts, industriels et sexy de TLT et le chant dadaïste de Viktoria.
Dans son premier album solo sous le pseudonyme de Decha, Viktoria Wehrmeister présente 9 chansons, une approche plus personnelle et plus abstraite (mais toujours ludique) de son art que sur les albums de Toresch. Hielo Boca est un disque qui est à la fois enchanteur dans son minimalisme et qui parvient pourtant à déverser la créativité explosive de Viktoria, chaque chanson à sa manière.
The lafayetteanticipations.com website uses cookies for audience measurement purposes.
By continuing your navigation on this site, you accept their use.