The Music of Living Landscapes
Saturday 02 Jun 2018 from 3pm to 5pm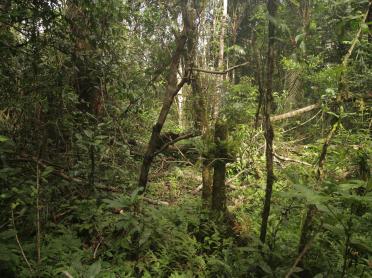 A listening session with Thomas Tilly and a conversation with Mathieu Kleyebe Abonnenc.
In his radio programme, The Music of Living Landscapes, broadcasted in 1996 by BBC Radio 4, Guyanese writer Wilson Harris (1921-2018) evoked experiences he had during the years he spent travelling the rivers of British Guyana as a hydrographer. It was at that time that he discovered that 'the landscape possessed resonance. The landscape possessed a life, because it was', for him, 'like an open book written in an alphabet which we could each decipher […] But it takes some time to grasp what this alphabet really is.'

The first time artist Mathieu Kleyebe Abonnenc heard Script Geometry (2014), a composition by musician Thomas Tilly, he was reminded of this 'music of living landscapes' and of the alphabet evoked by Wilson Harris, which has yet to be deciphered. Thomas Tilly composes with microphones that are placed outside the recording studio to offer a very subjective understanding of what the "outside" means. The sounds are produced by the non-human beings of the Guyanese forest, and are then superimposed and organised in successive montages. Through this reinterpretation, Thomas Tilly invites us to traverse the sound strata of the forest, from the undergrowth right to the top of the canopy.

For this event, Mathieu Kleyebe Abonnenc has invited Thomas Tilly to perform his compositions and to provide listeners with access, albeit in a partial and temporary fashion, to this 'music of living landscapes', so dear to Wilson Harris. The listening session will be followed by a conversation between the two practitioners.

The Music of Living Landscapes is an event created by Mathieu Kleyebe Abonnenc for the Interlude period at the Fondation, during which his film Secteur IX, B (2015) was presented from May, 12-17.

Free admission.
Through a multi-faceted approach that encompasses his activities as an artist, researcher, curator and film programmer, Mathieu Kleyebe Abonnenc attempts to explore areas that have been neglected by colonial and post-colonial history.
The absence, obsession and representation of violence are just some of the topics explored in the work of this artist who proceeds by extraction and excavation, and works towards re-inscribing, in our collective history, individuals and cultural materials that have been silenced. Upcoming solo exhibitions include: Concerning Solitude, Fundación Jumex, Mexico; Vieux-Wacapou, Kunstforum Baloise, Basel and Musée départemental d'art contemporain de Rochechouart. His most recent solo exhibitions are: Maintenir la distance, Guyane Art Factory, Cayenne; Mefloquine Dreams, MMK, Frankfurt, (2016); Chimen Chyen, Paris (2015); Songs for a Mad King, Kunsthalle Basel (2013). He is represented by the Galerie Marcelle Alix in Paris.
Thomas Tilly is a musician who uses a microphone and a loudspeaker as his primary instruments of creation.
Focused on the study of the sound environment and interaction with the space in which he exists, his work is inspired both by scientific and experimental musical research.
 Field Recording according to Thomas Tilly The aim here is not only to record sound but to place the microphone on the same rank as a musical instrument and to consider the situation or context of this instrument in space as a means of composition. His purpose is to subvert the microphone's role as a communication tool in an effort to apprehend the sound wave differently. Tackling the sense of immateriality that increasingly constitutes and conditions the material; focusing on speaking and using noise as something precious and unique, and confronting this noise with what is called 'music', such are the goals of Thomas Tilly's work.