L'Origine de la mort, Paul Maheke
Saturday 16 Sep 2023 from 8:30pm to 9:20pm
Sunday 17 Sep 2023 from 5:30pm to 6:20pm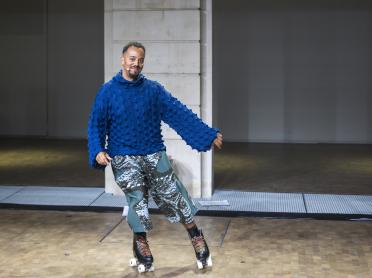 "L'Origine de la mort" is a reflection on different forms of interconnection, deepening Paul Maheke's interest in the possible dialogue between dance, sound and identity.
Maheke uses a variety of sources, from science-fiction to diary entries, sketches and preliminary texts (both found and written by the artist), as well as music and movement.

This new performance is a meditation on the thine line between otherness and strangeness, as experienced in the "roller rink culture" of Chicago's South Side as well as in the figure of the vampire.

Creation, Paul Maheke
Performance, Paul Maheke in collaboration with Alyssa "Ledet" Dillard

Coproduced by Astrup Fearnley Museet; Goodman Gallery; Galerie Sultana
With the support of the Villa Albertine
Through a varied and often collaborative body of work comprising performance, installation, sound and video, Maheke considers the potential of the body as an archive in order to examine how memory and identity is formed and constituted.
The artist studied at the École nationale supérieure d'arts in Cergy and at Open School East, London/ Margate.
His work has been shown at the Tate Modern, Chisenhale Gallery and South London Gallery (London); the Venice Biennale; The Renaissance Society (Chicago); Astrup Fearnley Museet and Heinie Onstad (Oslo); Rudolfinum Gallery (Prague); Centre Pompidou, Palais de Tokyo, Bourse de Commerce - Collection Pinault and Lafayette Anticipations (Paris); MO. CO (Montpellier); Triangle France (Marseille); Baltic Triennial 13; Manifesta 12 (Palermo); Cabaret Voltaire (Zurich), among others. He has been nominated for the 21st Ricard Corporate Foundation Prize in 2019, the Future Generation Art Prize in 2021 and was included in British Art Show 9.
Alyssa Dillard is a performer, artist and director who obtained a Master's degree in directing, creation and object theatre from the Department of Alternative Theatre and Puppet Theatre at the Academy of Performing Arts in Prague, Faculty of Theatre (DAMU).
Based in Prague, she creates site-specific visual art installations and performances, combining music, dance, theatre, installations and film, notably with the new interdisciplinary NGO OKRA Foundation.
Alyssa Dillard has previously been a director and actor at Salvage Vanguard Theatre, assistant producer at Rooster Teeth and director of the Czexas Project in 2019.