Loraine James + Iceboy Violet + Das Kinn + Lazza Gio
Saturday 21 Jan 2023 from 6:30pm to 11pm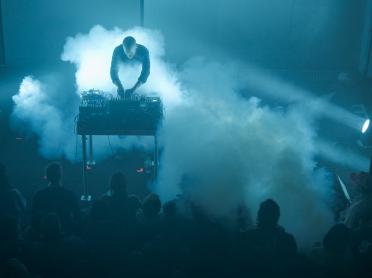 The second night of the festival navigates from a British scene that is more than ever groundbreaking to the German scene, synonymous with bridging the gap between pop, club music and punk.
In 2022, Closer Music invited two leading figures from the Manchester scene: Space Afrika and Blackhaine. In 2023, Iceboy Violet will represent the richness and creative freedom of the English city with his emotional trap.

Loraine James, the rising star of UK bass music, is also on the bill, the brillant representative of a generation that has brought demands and intimacy back into electronic music.

Also on the programme, Das Kinn, who modernises the kraut tradition with panache, and the Belgian rapper Lazza Gio with her moving cloud rap.
It only took three short years for Loraine James to draw attention to her futuristic, languid and political free bass music.
A gifted representative of a generation that has reclaimed the issues and intimacy of electronic music, the British producer and musician was logically noticed by the prescriptive Hyperdub label (Kode9, Burial). Her latest album Building Something Beautiful For Me (2022) varies the ambiences and is full of sonic discoveries. We perceive a brutally honest and terribly touching portrait of the artist, reminiscent of the work of New York composer Julius Eastman, to whom she recently paid tribute.
Iceboy Violet offers an innovative vision of a rap music fed by futuristic electronic music and organic experimentation.
Their beats evoke trap or IDM, feeding a syncretic vision of electronic rap that ideally conjures up contemporary anxieties. The claimed vulnerability of Iceboy Violet is expressed through one of the most interesting and original flows of the moment. An extraordinary and extremely precious music.
Dance music above all, in clubs, living rooms or cellars, Das Kinn is a well-kept secret of the European underground that should not take long to ignite bigger stages. 
Co-manager and owner of the Frankfurt label MMODEMM and member of the performance duo Les Trucs, Toben Piel creates with his solo project Das Kinn a music that seems to reconcile opposites, combining punk, new-wave, house music, arty rock and absurdist humour.
Lazza Gio has taken all cloud rap fans by surprise with Pas Vraiment pour toi, a disillusioned and moving first EP.
The musician who writes and produces everything at home claims amazing influences (Björk, emorock, Juice WRLD or Mathieu Boogaerts) and gives back its letters of nobility to the break up song format. With raw writing, a burned-out flow bathed in catharsis and unadorned productions, Lazza Gio opens a window on a tormented contemporary soul in which we can easily recognize ourselves.