Lives Nova XX
Saturday 30 Nov 2019 from 5:30pm to 8:30pm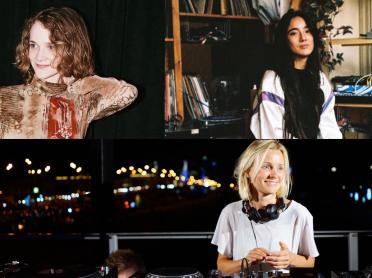 Lafayette Anticipations is associated with the first Parisian edition of Nova_XX, biennale dedicated to artistic, scientific and technological innovation in women's fashion. A musical evening that goes with the exhibition presented at the Centre Wallonie Bruxelles!
Dj Sets & lives :

→ OMMA
Omma is a leading electronic music producer and DJ on the Moscow club circuit, whose eye-catching musical creations highlight an innovative and playful approach to music technology.

→ Mika Oki
With a background in sculpture and electroacoustic music, she explores the notion of immaterial spaces and emotional landscapes through audiovisual installations, music and mixes.

→ Clara!
His compositions are driven by curiosity, humour and a strong passion for dance, while mixing music from different origins and cultural environments.
Originally from Moscow, Omma is now based in Paris.
Omma has spent the last ten years getting out of music, performing, recording and DJing while working on her "Playtronica" project. Omma unfolds a universe between pop and experimentation where she ironically sings her daily life in Russian. For her, there is no sadness and melancholy in dark, snowy days... if you are in harmony with the 5 elements of nature! She has just released her new LP on the Parisian label Antinote.
Mika Oki est une artiste visuelle et sonore franco-japonaise qui vit et travaille à Bruxelles.
Avec une formation en sculpture et en musique électroacoustique, elle explore la notion d'espaces immatériels et de paysages émotionnels à travers des installations vidéo et sonores, utilisant des textures sonores abstraites et des images mentales cinétiques. Mika Oki s'intéresse également au DJing qui lui permet de traduire des expérimentations atmosphériques, brouillant les frontières entre techno et sons ambient.
Originaire de Galice, Clara! aime les mélanges hétérogènes, riches en sauts de tempo, mixant des musiques d'origines et d'environnements culturels différents. Ses compositions sont animées par la curiosité, l'humour et une forte passion pour la danse. Clara! fait partie du collectif PRR PRR basée à Bruxelles.