× Cancel ×
Listening session with Eddie George and Dhanveer Singh
Sunday 15 Nov 2020 from 3pm to 4pm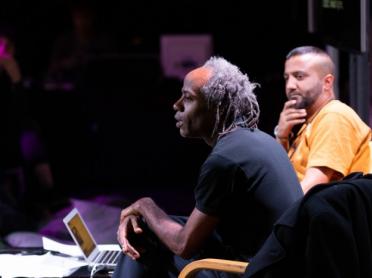 Following the government's announcements, the Foundation is closing its doors this Friday, October 30 and until further notice. All our upcoming events are cancelled. Our ticketing team will be contacting all ticket holders very soon.

Stay tuned via our social networks and newsletter to follow our future programming online.
Thank you for your understanding, see you soon!
A listening session around Jamaican music with Eddie George, founder of the Black Audio Film Collective, and Dhanveer Brar, researcher, specialist in "Black Studies".
Eddie George est un écrivain, chercheur et présentateur du documentaire de science-fiction révolutionnaire "Last Angel of History" du Black Audio Film Collective.
Il est l'un des fondateurs du Black Audio Film Collective (1982-1998), du duo multimédia Flow Motion (depuis 1996) et du groupe de musique électronique Hallucinator (depuis 1998).