Lenio Kaklea, A Hand's Turn
Saturday 08 and Sunday 09 February 2020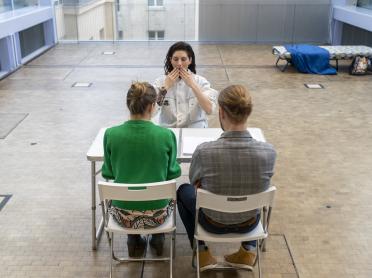 A Hand's Turn is a choreographic piece and a book. In this work, Lenio Kaklea exposes the gestures of reading, the pages turned from right to left which, in a slow and continuous beat, unfold a duration, a trajectory, a story.
Presented during a session for one or two viewers, it invites us to think about the situation constructed by this practice. The particular itinerary of the regard focused at and projected on the space of the page, the decryption of the signs, the hand movement that accompanies the production of affects and the body that stands on the sidelines. After the session, the visitors are invited to purchase the book. What it was an exchange can now be experienced by the reader performing the choreography for him·herself.

Concept, choreography and text: Lenio Kaklea
Interpretation: Jackie Elder et Lenio Kaklea
Artistic collaboration: Lou Forster Editing,
Translations and proof reading : Eleni Tranouli
Set design: Sotiris Vasiliou
Sound: Eric Yvelin
Styling: Yonatan Zohar
Monitoring: Agnès Henry - extrapole
Production: Athens & Epidaurus Festival, 2017
Executive production : Le O/abd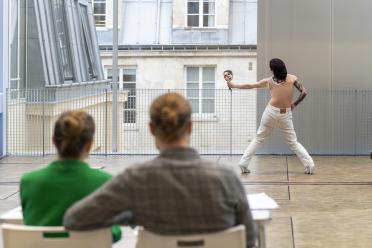 Lenio Kaklea est une danseuse, chorégraphe et écrivaine née à Athènes, en Grèce. Elle vit et travaille aujourd'hui à Paris.
Jeune danseuse, elle étudia au Conservatoire National de Danse Contemporaine d'Athènes (SSCD), où elle se forme au ballet classique et aux techniques et répertoires modernes américains tels que Martha Graham, Merce Cunningham et Jose Limon. En 2005, elle reçoit le Prix de la Fondation Pratsika et s'installe en France, où elle étudie au CNDC d'Angers (FAC) et commence à collaborer avec des personnalités de la scène européenne de la danse conceptuelle telles que Boris Charmatz, Alexandra Bachzetsis, Claudia Triozzi et Emmanuelle Huynh. En 2011, désireuse d'étendre sa pratique artistique, elle complète le programme SPEAP, un master sur l'expérimentation dans les arts et la politique dirigé par Bruno Latour à Sciences Po à Paris. Depuis 2009, Lenio Kaklea utilise différents médiums : la chorégraphie, la performance, le texte et la vidéo. Sa pratique artistique s'inspire du féminisme, de la psychanalyse et de la critique institutionnelle et explore les intersections entre la danse et la théorie critique. Dans son travail, elle explore la production de la subjectivité par la répétition et la transmission organisée des mouvements et cherche à révéler les espaces intimes et marginaux dans lesquels nous, en tant qu'individus, construisons notre identité. Un volet important de son travail est le projet Practical Encyclopaedia. Depuis 2016, parcourant les rues et les sentiers de différents territoires périphériques européens, elle rassemble près de 600 histoires uniques qui témoignent de la familiarité et de la diversité des habitudes, des rituels et des métiers qui composent et distinguent ces terrains. Différentes formes artistiques se manifestent dans ce projet (un solo de danse, un quatuor de danse, deux publications et une installation vidéo). Son travail a été présenté par différentes institutions et festivals à travers l'Europe tels que le Centre Pompidou, ImPulsTanz Festival, Fondation Onassis, Triennale de Milan, Laboratoires d'Aubervilliers, documenta 14-Programmes publics, NEXT Festival, Passerelle Art center, PACT Zollverein, Les presses du réel. Parallèlement à son travail chorégraphique personnel, elle s'engage dans des collaborations avec d'autres artistes. En 2013, elle poursuit une collaboration en solo avec la chorégraphe américaine Lucinda Childs sur la musique de Ryoji Ikeda. En 2016, elle est commissaire invitée à la Scène Nationale de Brest et présente Iris, Alexandra, Mariela, Katerina et moi, un focus sur la production chorégraphique féminine athénienne contemporaine. En 2017, elle accompagne la chorégraphie de la Suite No 3, un concert scénique de Joris Lacoste et Pierre Yves Macé. En 2019, elle collabore avec le pianiste Orlando Bass sur l'œuvre emblématique pour piano préparé de John Cage, Sonatas & Interludes. En 2019, elle reçoit le Prix de la Danse de la Fondation Hermès Italia et crée un nouveau solo pour la Triennale de Milan, Ballad.