Launch of the catalogue of the exhibition Au-delà
Monday 24 Apr 2023 from 7pm to 8:30pm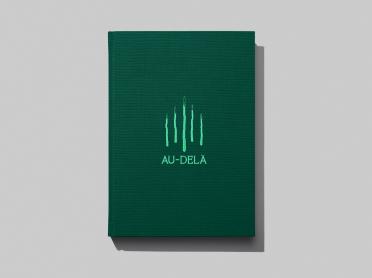 A conversation with Agnes Gryczkowska, curator of the exhibition and the authors of the exhibition catalogue CAConrad, Irenosen Okojie and Sarah Shin.
About the exhibition and the themes of metamorphosis, dreams and other states of consciousness.
CAConrad has worked with the ancient technologies of poetry and ritual since 1975.
They are the author of AMANDA PARADISE: Resurrect Extinct Vibration (Wave Books, 2021), which won the 2022 PEN Josephine Miles Award.
They also received a 2022 Ruth Lilly Poetry Prize, a Creative Capital grant, a Pew Fellowship, and a Lambda Award.
Their play The Obituary Show was made into a film in 2022 by Augusto Cascales, and they exhibit poems as art objects with recent shows in Spain and Portugal.
Agnes Gryczkowska is an independent curator, writer, and musician.
She was formerly curator of Schinkel Pavillon, Berlin where she curated HR Giger & Mire Lee (2021); Sun Rise | Sun Set (2021) with works by Dora Budor, Max Ernst, Karrabing Film Collective, Max Hooper Schneider, Pierre Huyghe, Emma Kunz, Richard Oelze, Precious Okoyomon, Jean Painlevé, Pamela Rosenkranz, Rachel Rose, Henri Rousseau, Torbjørn Rødland, Ryuichi Sakamoto (amongst others) ; and the exhibition Claude Mirrors: Victor Man, Jill Mulleady, Issy Wood (2019). Gryczkowska also curated Amnesia Scanner: Anesthesia Scammer (2019) and Holly Herndon: PROTO (restaged) (2019) presented by Light Art Space at Kraftwerk, Berlin.
Prior to that, Gryczkowska was an artist and curator in residence at Somerset House, London and from 2015 to 2018, she was part of the curator team at Serpentine, London where she worked on exhibitions by Rachel Rose, Simon Denny, DAS INSTITUT (Kerstin Brätsch and Adele Röder), Marc Camille Chaimowicz, Wade Guyton, Grayson Perry, and Etel Adnan, amongst others. Other recent curatorial projects include SuperFutures (2022) presented by Reference Studios, Berlin at Selfridges, London. She regularly writes quasi-fictional exhibition texts and has contributed to various contemporary art publications, including Spike and KALEIDOSCOPE.
Irenosen Okokie is a Nigerian British author whose work pushes the boundaries of form, language, and ideas.
Her novel Butterfly Fish, and short story collections, Speak Gigantular and Nudibranch, have won and been nominated for multiple awards.
Her journalism has been featured in The New York Times, The Observer, The Guardian and The Huffington Post. She is a Contributing Editor for The White Review. She co-presents the BBC's Turn Up For The Books podcast alongside Simon Savidge and Bastille frontman, Dan Smith. Her work has been optioned for the screen.
She has also judged various literary prizes including the Dylan Thomas Prize, The Gordon Burn Prize as well as the BBC National Short Story Award. She is a judge for the 2023 Women's Prize For Fiction. Vice Chair of the Royal Society of Literature, she was awarded an MBE For Services to Literature in 2021.
Sarah Shin is a writer, publisher and curator whose work includes making books, texts, gardens, games, scents, spaces, portals and practices.
She is a founder of Ignota, a creative publishing and curatorial house exploring consciousness, technology and healing; Silver Press, the feminist publisher; New Suns, a curatorial project at the Barbican Centre; and Standard Deviation, a spatial practice exploring the coincidence of psychic, geometric and inhabited space.