LA Tour
Saturday 20 Oct 2018 from 3pm to 4pm
Saturday 17 Nov 2018 from 4pm to 5pm
Free admission without reservation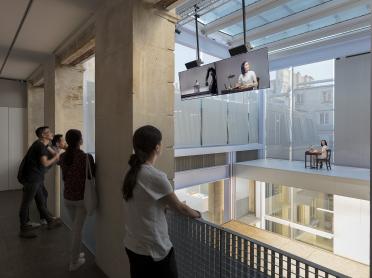 Every Saturday at 5pm, a member of the Lafayette Anticipations team provides a guided tour of the exhibition.
Access to LA Tour is limited to 30 visitors.

Book your tickets online or at the ticket office the day of LA Tour. The visitors who benefit from free admission must retrieve their ticket directly at the ticket office on the day of LA Tour.

The ticket grants admission to LA Tour as well as to the exhibition spaces.


Programme:

Saturday, October 20, 5 PM
Guided tour in French
With Aude Mohammedi Merquiol, Head of Production Coordination

Saturday, November 17, 5 PM
Guided tour in French
With François Quintin, Managing Director
Over the past decade, Simon Fujiwara has become known for his staging of large, complex exhibitions that explore the deeply rooted mechanisms of identity construction for both individuals and societies. Addressing the inherent contradictions of image and narrative making – from social media and self presentation to marketing and history formation – Fujiwara revels in the complexity and paradox of our simultaneous quest for fantasy and authenticity.
Crossing multiple media, from sculpture and installation to video and painting and mining worlds as diverse as advertising and archaeology, Fujiwara's works are a constant reportage on the real world sources from which they draw inspiration. However, rather than simply presenting commentary, the artist creates a unique universe of his own – one that is populated with challenging and often absurd new narratives that are as intellectually rigorous as they are emotionally stimulating. Fujiwara's recent solo exhibitions include: Joanne, Galerie Wedding, Raum für zeitgenössische Kunst, Berlin (2018), Hope House, Kunsthaus Bregenz (2018); Figures in a Landscape, Kunsthalle Düsseldorf (2016), The Humanizer, Irish Museum of Modern Art, Dublin (2016), White Day, Tokyo Opera City Gallery (2016), Three Easy Pieces, The Carpenter Center, Harvard University, Cambridge (2014), Grand Tour, Kunstverein Braunschweig (2013), 1982, Tate St. Ives (2012), and Welcome to the Hotel Munber, Power Plant Contemporary Art Gallery, Toronto (2011). Among recent biennials and group exhibitions are: Berlin Biennale 9, Akademie der Künste, Berlin (2016), Storylines, Solomon R. Guggenheim Museum, New York (2015), Un Nouveau Festival, Centre Pompidou, Paris (2014), Sharjah Biennial (2013), Shanghai Biennial (2012), Gwangju Biennial (2012), São Paulo Biennial (2010), and the 53th Venice Biennale (2009). Fujiwara was the recipient of the 2010 Baloise Prize at Art Basel and the 2010 Frieze Cartier Award.