Kelsey Lu 
Friday 17 May 2019 from 6pm to 7:30pm
With her cello and her voice able in the same movement to come and pinch and touch you, the American singer Kelsey Lu contributes to the mixing of genres, the confusion between the visible and the invisible.
Signed on the True Panther label, Kelsey Lu belongs to the pop sphere, but even more so to her stratosphere. The voice and the strings vibrate in unison, evoking both the music of Joni Mitchell and Arthur Russell or more recently that of Sudan Archives and its r'n'b on the violin.
Kelsey Lu's songs sound like the soundtrack of a Bergmanian musical, "nuanced, intense and beautiful like yoga poses, which take time to flourish and always end up in a kind of voluptuous implosion towards the light" (Les Inrockuptibles).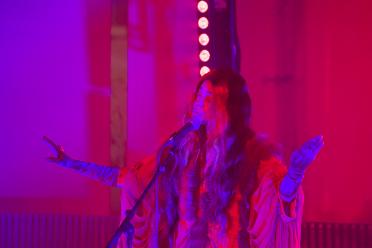 The American Kelsey Lu has been studying music since the age of 6 years old. At the age of 18, she entered an art school to work on vocals and cello, then took part in various projects, collaborating with Southern rap group Nappy Roots, Kyp Malone (TV On The Radio) and Dev Hynes (Blood Orange) or Caroline Polachek (Chairlift).
In 2016 Kelsey Lu recorded her first live album in a church in Brooklyn which is entitled Church with her cello and a pedal of samples. If these two tools, which she mastered with delicacy, still transcend her second album Blood, they are mostly delivered in all their rigidity. On the most pop songs, she launches, in a sometimes heavy precision, to vocalize on the contours of a melody while turning the spotlight again on the fantasy of Laurel Canyon.