Ivana Müller
Saturday 21 Sep 2019 from 12:30pm to 1:15pm, from 1:15pm to 2pm, from 2pm to 2:30pm, from 3:15pm to 4pm, from 4pm to 4:45pm
Sunday 22 Sep 2019 from 12pm to 12:45pm, from 1:45pm to 2:30pm, from 2:30pm to 3pm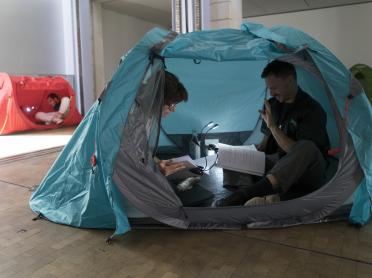 Hors-Champ ("Off-Field") is a performance played by spectators situated in an artificial "colony" made out of ten of two-person tents. Short-lived colony, this performance offers a series of conversations inspired by metaphors which comes from the world of plants and gardens.

Concept: Ivana Müller
Texts: Ivana Müller in collaboration with Julien Lacroix and Anne Lenglet
Production: I'M COMPANY (Matthieu Bajolet, Gerco de Vroeg and Suzanne Veiga Gomes)
Running time: 45 minutes

Continual performance Saturday, September 21 from 2:30 pm to 7pm and September, Sunday 22 from 2.30pm to 5pm, excepted during Dancer of the Year by Trajal Harrell.
Ivana Müller is a Croatian choreographer, artist and author who is living in Paris and works internationally.
Through her choreographic and theatre work (performances, installations, text works, video-lectures, audio pieces, guided tours and web-works) she re-thinks the politics of spectacle and spectacular, re-visits the place of imaginary and imagination, questions the notion of "participation", investigates the idea of value and its representation, and keeps on getting inspired by the relationship between the performer and the spectator. Since 2002 she has created about fifteen plays and dances that have been performed in Europe, the United States and Asia. In 2007 she received the Charlotte Koehler Award for all of her work, as well as the Impulse Festival and Goethe Institute Award for her play While We Were Holding It Together. Her experimental, radical and formally innovative work expresses the idea of movement and the body, being at the heart of her artistic preoccupations. The theater remains her main place of practice and creation. Yet Ivana Müller's work has often been presented in the context of contemporary art, among others at the Venice Biennale 2015, the Garage Museum of Contemporary Art (Moscow), Hayward Gallery / Southbank Center.