How would you anticipate? #3
Friday 26 Oct 2018 from 5:30pm to 8pm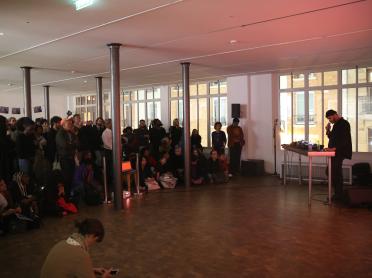 Different Alibis

Tarek Lakhrissi invites Lily Hook, Ndayé Kouagou, Christelle Oyiri and Harilay Rabenjamina
 
Every month, Lafayette Anticipations invites various artists and practitioners to develop a formal, performative, discursive and/or collaborative proposal, to be explored over the course of an evening, based on whatever the notion of anticipation inspires in them. How would you anticipate? is the question asked of guests, chosen for the relationship their practice enjoys with speculation, imagination, research and the quest for alternatives.
Different Alibis are a means of claiming a place in the world. But which world? A world composed of magnetisms; of redefinitions of spaces and words through speech, movement or music. A new way for a generation born in the 1990s to attain a certain vulnerability. And a political means of opening up a toolbox to then develop critical perspectives. To have an alibi is a means of defence. To have an alibi is to be elsewhere. To have an alibi is to circumvent the rules. To sense a way out, mysteries to solve, newspeaks, queer and non-white bodies that urge us to "feel" identities like magnetic fields. Not unlike dinner with a chosen family, this evening's meal will (maybe) include a scandalous surprise improvisation, a performance by Harilay Rabenjamina about an R&B group on the brink of implosion, astrology readings from a queer and decolonial perspective by Lily Hook, and the launch of the Young Black Romantics review by Ndayé Kouagou. Last but not least, Christelle Oyiri will end the meal with her Collective Amnesia piece. Be prepared for a superb catastrophe.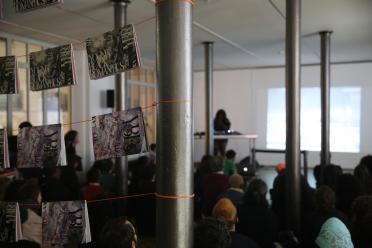 Tarek Lakhrissi is a French artist and poet with a background in literature. He works across  installation, performance, film, text and sculpture, engaging with political and social issues  around transformative narratives within language, magic, weirdness, codes and love.
His background in literature draws influence from feminist and queer writers, such as Elsa  Dorlin, Jean Genet, Monique Wittig and José Esteban Muñoz, providing his work with a  romantic atmosphere. Each project Lakhrissi initiates derives from text, poetry and language,  which are his primary obsessions, before translating ideas from these mediums into the visual  arts. His profound use of language engages with performativity and reflects on poetic, erotic  and nostalgic queer futures. 
He currently teaches at CCC Research Master Program of the Visual Arts Department at HEAD (Geneva School of Art and Design). Lakhrissi has been exhibited internationally at galleries and institutions including: Museum of Contemporary Art; Biennale of Sydney (2020), Wiels; Brussels (2020), Palais de Tokyo; Paris (2020), Palazzo Re Rebaudengo/Sandretto, Guarene/Torino (2020), Quadriennale di Roma; Palazzo delle Esposizioni, Rome (2020), High Art; Paris (2020), Hayward Gallery; London (2019), Auto Italia South East; London (2019), Grand Palais, FIAC; Paris (2019), Fondation Lafayette Anticipations; Paris (2019), L'Espace Arlaud; Lausanne (2019), Zabriskie; Geneva (2019), Fondation Gulbenkian; Paris (2018), CRAC Alsace; Altkirch, France (2019), Kim?; Riga (2018), Artexte; Montreal (2017), Gaité Lyrique; Paris (2017), SMC/CAC; Vilnius (2017). He is represented by Vitrine Gallery (London - Basel) and is shortlisted for the 22nd Fondation Pernod Ricard Prize (2020-2021).