Experimental wine and cheese tasting with Cooking Sections
Saturday 08 Sep 2018 from 6pm to 8pm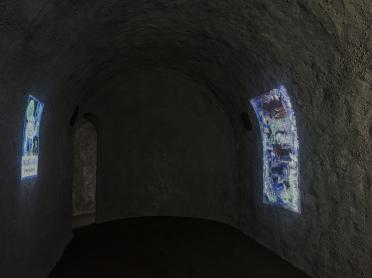 Cooking Sections (Alon Schwabe and Daniel Fernández Pascual) will conclude the gathering Around the Centre #2 with a performance-tasting of wine and cheese that will extend the research led by the duo in the framework of their installation Losing Cultures.
This new piece questions the very notion of "terroir" and its political, symbolic and economic implications, at a time of exacerbated climate change. For this event, Schwabe and Fernández Pascual aim to propose a new language to describe the products emerging from French landscapes that are transformed or in transformation due to climate change.

Practical Information

This event (8 PM - 10 PM) will be held in English and is ticketed (fee: 8€).

The purchase of a ticket provides visitors with access to the performance-tasting as well as to the exhibition spaces.

More information: +33 (0)1 42 74 95 56.
Cooking Sections is Daniel Fernández Pascual (born in 1984) and Alon Schwabe (born in 1984), a London-based duo trained in architecture and visual arts, namely at Goldsmiths University in London.
Often engaged in long-term research driven projects, Cooking Sections examines the systems that organize the world through the politics of food. Using installation, performance, mapping and video, their work explores the overlapping boundaries between geopolitics, visual arts, and the built environment. Cooking Sections' work has been presented at Storefront for Art and Architecture in New York (2017), the Neue Nationalgalerie Berlin (2014), the U.S. Pavilion for the 2014 Venice Architecture Biennale, and DOCUMENTA (13) in 2012. Cooking Sections is part of Manifesta 12 in Palermo. Their writing has been featured in a number of international magazines including e-flux magazine, Frieze magazine, and Volume as well as publications such as OfficeUS (Lars Müller) and Forensic Architecture (Sternberg Press). Their book The Empire Remains Shop (2018) is published by Columbia Books on Architecture and the City.