Ephemeral publishing workshop
Friday 03 Jun 2022 from 5pm to 9pm
Saturday 04 Jun 2022 from 11am to 7pm
Sunday 05 Jun 2022 from 11am to 7pm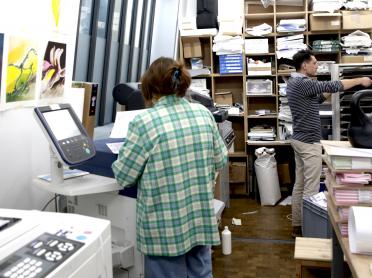 On the occasion of the Paris Ass Book Fair, Lafayette Anticipations is moving its publishing workshop to the ground floor of the Fondation!

Visitors discover risography, a direct-tone printing technique that is very popular in the world of micro-publishing, and the various stages of book production.

In particular, they will discover the finishing of Tarek Lakhrissi's first book of poems, "Le sang !/Blood!" - a laureate artist of our À l'oeuvre! production support programme.