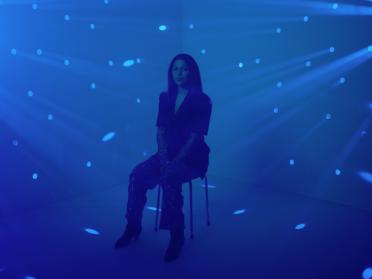 Online event since 2 years et 6 mois
Online event since 2 years et 6 mois
Online event since 2 years et 6 mois
Mixtape ASMARA
Thursday 03 Dec 2020 from 6pm to 7:01pm
Composer of the soundtrack for The show is over, the main installation for Wu Tsang's exhibition, ASMARA (aka Asma Maroof) is an electronic musician, DJ and producer.

She is also known as NGUZUNGUZU, a duo formed with Daniel Pineda in Los Angeles that explores dystopian sound atmospheres.

For the "visionary company" exhibition, she offers us an evocative tracklist mix, blending avant-garde jazz accents with vaporous electronic layers.
Asma Maroof est une productrice de musique électronique basée à Los Angeles qui explore les puissantes capacité de narration du son tant derrière les platines qu'à l'écran.
Après avoir étudié le cinéma au SAIC Chicago, elle a commencé à enregistrer et à créer des improvisations en direct avec Daniel Pineda sous le nom de Nguzunguzu. Produisant et jouant en solo sous le nom d'Asmara, elle a joué dans des institutions prestigieuses telles que l'Opéra de Sydney et le Whitney, et est une ancienne élève de la Red Bull Music Academy.
Son premier EP, Let Ting Go, à la fois sensuel et sombre, incarne sa relation aventureuse avec le son, alliant d'élégantes cordes indiennes et des scintillements R&B à des motifs de tambours bruts de la pègre. Travaillant avec de nombreux chanteurs, elle a notamment travaillé en étroite collaboration avec Kelela, produisant des morceaux sur toutes ses sorties et coproduisant son projet "Take Me a_Part, the Remixes".
Seiko - Yasuaki Shimizu
Cave - Visible Cloaks
Freddie Freeloader - Sam Gendel
I hear a new World - Joe Meek
Fred Moten The World is Dry Land Soundbyte
Russische Roulette - Fred A
Metaz form8- Autechre
Everybody loves the Sunshine - Roy Ayers
Body and Soul- Charles Mingus
Love Theme From Spartacus - Yusef Lateef
If this World were mine - Marvin Gaye & Tammi Terrell
Saku - Susumu Yokota
Evensong - Robert Fripp & Brian Eno
Ezekiel's Wheel (feat. The-Dream) - Jay Electronica
Remembrance (feat Zsela) - Actress
Comes and Goes - Art of Noise
(Three fingers of) Love - Art of Noise
The Feeling when you walk away - Yves Tumor
Gentle to you when you're low - OCA
Tone bone kone - Arthur Russell
That's how I feel - Sun Ra and his Arkestra
Imago - OPN
"T" plays it cool - Marvin Gaye
Shadows in silence - Enigma
Obliette - Fatima Al Qadiri
Age of Uncertainty - Nguzunguzu
Lonely World - Moses Sumney
Lifetime - Inc.
The "Dreaming" - Ryuichi Sakamoto
In a World Sound byte
Peace (Closing Theme) - Robert Hood