Cali Thornhill Dewitt
Friday 17 May 2019 from 12pm to 6pm
Saturday 18 May 2019 from 12pm to 6pm
Sunday 19 May 2019 from 12pm to 6pm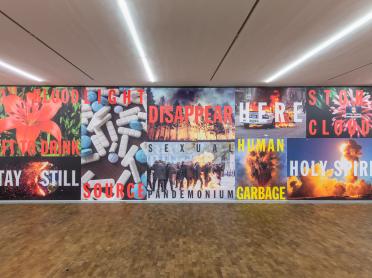 Disaster Exercise installation
Aware of the fast evolutions of the popular culture, Cali Dewitt's work is influenced notably by the press and Internet. The artist takes both media imagery and the information that are delivered, showing a keen interest in scandal titles in particular. Los Angeles, his favorite city, is also a source of inspiration.
For the Kaleidoscope festival at Lafayette Anticipations, Cali Dewitt makes images that effectively will set as wallpaper to the walls of the Fondation given to him. This work has already done at the famous gallery of contemporary art in Los Angeles, Regen Projects.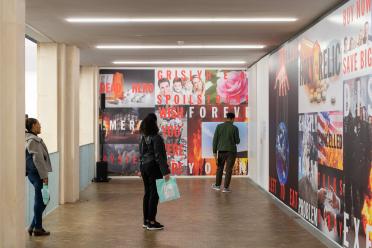 Cali Dewitt is a multidisciplinary artist from Los Angeles. He has exhibited extensively with recent exhibitions including Safe Words at Karma International in Los Angeles, Global Warning at Muddguts in New York, Going To California at Stems in Brussells and War Song at V1 in Copenhagen.
In addition to his fine art practice he collaborates on clothing and publishing with the likes of Varg, Kanye West, Neighborhood, Readymade and the brand Someware with Brendan Fowler. Recent books and publications include War Song (2019), Let Me Crash Here For A Moment (2018), Violent Music (2018), Manhattan (2017) and Over The Volcano (2016).