Closer Music - Day 2
Saturday 26 Jan 2019 from 6pm to 9:30pm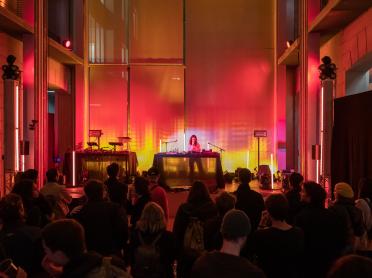 Tirzah + Stine Janvin + Fiesta En El Vacio
7pm: Fiesta En El Vacio (France)

8.30pm: Stine Janvin (Norway)
Experimental vocalist and sound artist Stine Janvin's instrument is her extraordinarily flexible voice, which she twists and bends almost to the extreme of human sound to produce "Fake Synthetic Music" (her album title) — sounds produced by her investigations of a unique and uncanny voice.

9.30pm: Tirzah (Great Britain)
"I'm Not Dancing", the title of Tirzah's first EP, produced by childhood friend Micachu, set the tone for this London musician's sound, a mix of lo-fi house, bass and experimentation infused with melancholy. The tracks on her debut album, "Devotion", stood apart for their sensitive, tender take on electronic music.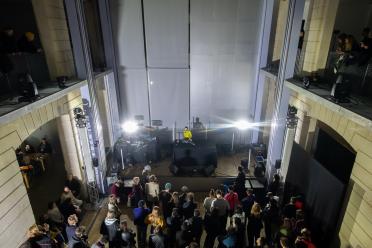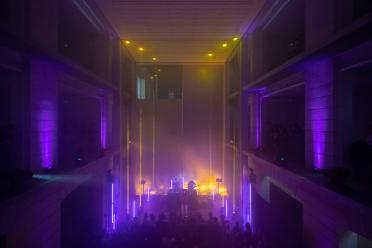 Le projet Fiesta En El Vacio, mené par Luna Maria Cedron, mêle synthétiseur et autres machines électroniques pour un envoûtement synthétique. Le répertoire musical invoque des fantômes romantiques.
Stine Janvin Motland est une compositrice norvégienne proposant des performances. Son large panel de techniques vocales lui permet d'explorer et de pousser davantage les limites naturelles de la voix.
En parallèle de son groupe de performance Brigitte & Paula band, Stine Janvin travaille parfois avec les ensembles Song Circus et Aksiom. Elle collabore également avec de nombreux compositeurs de musique expérimentale et participe activement à des projets mêlant art, théâtre et danse à travers le monde.
Mêlant pop, soul and r'n'b, Tirzah est représentative de la scène artistique britannique.
Tirzah a fait des études à l'école de musique de Purcell School, en périphérie de Londres. Elle travaille en étroite collaboration avec la chanteuse Micachu, sa productrice. En 2018, Tirzah lance son premier album Devotion.