Clash-Boule
Friday 24 May 2019 from 4pm to 8pm
Saturday 25 May 2019 from 9am to 5pm
Sunday 26 May 2019 from 9am to 5pm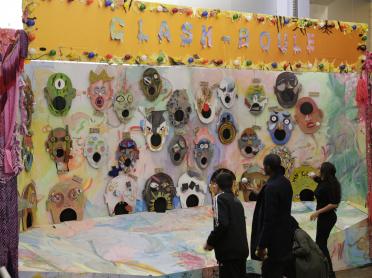 Clash-Boule and le Passe-Boule des Maboules
Shooting games, 2018-2019
 
Invited by Lafayette Anticipations, Mathis Collins imagined collective workshops of creation, conversation and meeting around the fairground art: "Passe-Boule".
These workshops took place between October 2018 and May 2019 at the Studiolo de Lafayette Anticipations, where a group of amateurs adults were formed during the sessions, but also as part of artistic workshops at Pierre de Montereau secondary school (Seine-et-Marne). In the manner of the carnival communities, each of the two groups has created its own shooting range, while deepening the theme of the fairground object and its history. These stands are collective works that evolved during the meetings, nourished by the contributions of the various guests (artists, anthropologists, authors, etc.).

Entitled Clash-Boule, the stands are inspired by the games of Passe-Boule, a traditional shooting game of carnivals. The participants "clash" by throwing balls, which, over their twists, build absurd sentences, in the spirit of surreal exquisite corpses.

Inauguration on Friday, May 24 from 6pm to 10pm
Then visible all weekend from 11am to 7pm, activated from 2pm to 6pm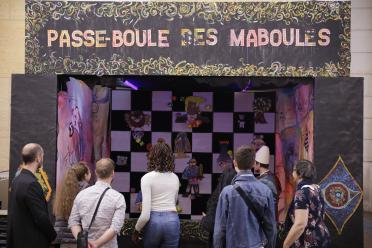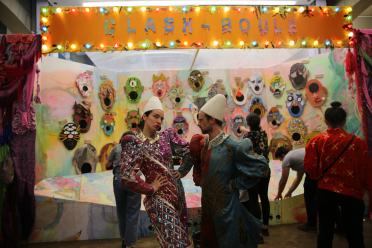 Mathis Collins is a Franco-Canadian sculptor and performer who organises collective workshops and public events around popular and grotesque objects or practices linked to craftsmanship. The often absurd objects resulting from these workshops question the way popular artefacts are generally exhibited.
The techniques and themes explored by Collins's work range from harvesting cork oak to ornamenting a bottle of alcohol, from coffee tables to clown shoes, from art schools to Parisian urchins, and from Second Empire caricature to contemporary experimental art-education methodologies.
 
 Mathis Collins studied art in Cergy, Metz, Montreal and Brussels before attending Open School East in London. His work has been shown a.o. at Palais de Tokyo, Musée d'Art Moderne de la Ville de Paris, Friche Belle de Mai in Marseille, Riijksakademie in Amsterdam, 1m3 in Lausanne and Longtang in Zurich.
The lafayetteanticipations.com website uses cookies for audience measurement purposes.
By continuing your navigation on this site, you accept their use.